Welcome to Mrs. Maffet's
5
th Grade Class!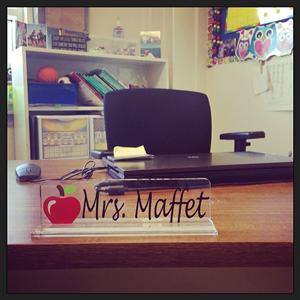 I am blessed to be entering my 9th year in the teacher profession. Previously, I taught for three years in the Philadelphia School District and before that, I taught for three years in Chiang Mai, Thailand. Both previous teaching positions were great opportunites, but being at Birches is like being back home. I am a Washington Township Graduate who started at Wedgwood Elementary school, then went to Chestnut Ridge for Middle School, and eventually graduated from the high school.
After graduating from Washington Township, I continued my journey to Cairn University in Langhorne, PA. I graduated with honors and obtained a bachelors degree in Elementary Education, a bachelors degree in Biblical Studies, and a certificate in English as a Second Language.I am currently at the University of Wilmington for a master's degree in Curriculum and Instruction.
I am looking forward to a innovating and exciting year with our 5th graders at Birches Elementary School. My goal for the students is to show them that they matter and that education matters. I want them to value themselves and to value others. I believe each day is a new opportunity to learn and to show the world what kind of person you are. I hope that my students love their experience in my classroom and learn that people matter and that they matter.
Outside of school, I love spending time with my husband and our two boxer dogs, Reef and Rooney. We love to hike, go to the beach, fish, and explore the outdoors.
Please enjoy the website and if there is anything you need that is not on here, please feel free to let me know. Thanks! Kindness Matters :)