Orchard Valley Middle School Sixth-Grade Read 180 Class Surpasses 1,000,000-Word Mark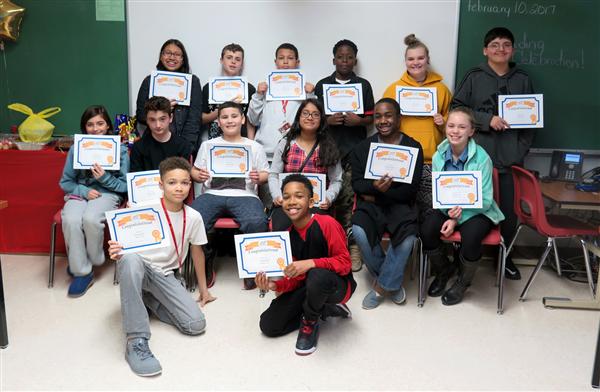 WASHINGTON TOWNSHIP – Orchard Valley Middle School sixth-graders in Mrs. Joanne Leahy's Read 180 class recently passed the 1 million-word milestone. Passing 1 million words was the class's goal at the start of the year, and since they reached it in less than one semester, they're shooting for more than 2 million for the entire school year.
"They have been working toward this goal all year, and I am excited that this could be the first year we reach 2,000,000 words read by the end of the school year," Leahy said.
To celebrate 1 million words, the class hosted a celebration on February 9th, where there was cake, Chick-Fil-A nuggets and more, and they watched a movie as another part of their reward. In addition, the students each received a certificate with the amount of words they contributed.
In the above photo, the OVMS sixth-grade Read 180 class poses with the certificates. They include (left to right): Back row – Dania Bautista, Ashton Hammell, Michael Thomas, Abel Fowler, Sabrina Schmidt, Yousif Amro; Middle row – Ronnie Loizou, Bryce Gaffney, Daniel Revelli, Mayrin Hernandez, Caiden Collins, Alayna Taylor-Morrell; Front row – Wesley Sisco, Antwan Bridgett; Missing from photo: Olivia Leone.
-WTPS -