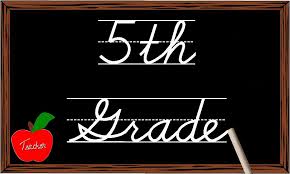 I would like to take this opportunity to share a little about myself. I am a Rowan University graduate with dual majors in Elementary Education and Writing. I also have my Teacher of Reading Certification. I am originally from St. Louis Missouri, home of "Cardinal Nation" (that's a baseball term) for those not in the know! I live with my loving husband and two young children all of whom are avid Phillies fan. This means (for their sake) I have to try really hard to be a good sport and root for them when they are not playing my home team! I am also a big hockey & football fan! Aside from teaching and being a mom, I love to read (anything and everything), write, and cook!
Fifth grade is really an exciting year with many opportunities to shine! I am a big believer in creating a true "classroom community," which we will discuss in great deal the first few days/weeks of school. I believe as a community we can make great things happen and learn while doing so! As part of this classroom community, you will learn many new things that will interest, motivate, and challenge you. As such, I am sure you will grow and develop your own personal interests, both socially and academically.
I believe strongly in open communication. Email is the best way to reach me during the day as I check it often. If you have any questions, please feel free to contact me at jmahoney@wtps.org or you can call my voicemail at 856-589-8441, ext 3343.
Sincerely,
Mrs. Mahoney