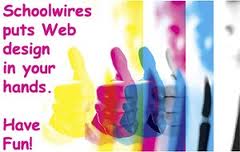 Click on the links below to download and open the documents and presentations relating to Schoolwires Training.

Use them to fast track your skill level with this powerful online website builder
This is the Training Page for Schoolwires. Each person in the training session will be able to create a Welcome (Landing) Page, a Course Syllabus page, Assignments Page, File Library Page, Links Library Page and Embedded files pages. We will review how to create a page, select a layout, access all the options and quickly create an interactive online presence.

Review the tutorials provided below as often as needed in order to become successful navigating Schoolwires and putting the power of website creation at your fingertips. Be patient, have fun and play to unleash your creativity!