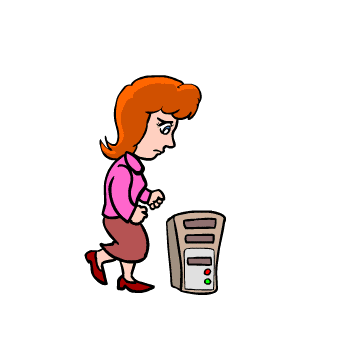 For many teachers, using technology in the classroom can be an added stressor when the technology they are using doesn't work.

The most important thing to remember about troubleshooting when it comes to computers is to stay calm. Getting frustrated and upset will only make your technology experience worse. I have included a few things here that may help in solving your problem.

If you have tried everything that YOU know to fix your technology issue, remember to ask for "Help".

*Ask the kids (they expect to know more than you about technology...after all, they are the "Computer Generation"). It's okay to let them know that you don't know how to fix the problem. I tell them in every Computer class that it is impossible to know everything about technology and computers.

*Ask Google. (He is my bff!)

*Ask another teacher. (Two heads are better than one!)

*Ask the Computer teacher!

*Ask the Help Desk! (They actually DO know everything about technology between all of them! Just don't tell the kids!)

Just keep using the technology...it really is worth every Grrrrrrr!
CTRL Shortcuts from A-Z:

CTRL + A = Select text
CTRL + B = Bold text
CTRL + C = Copy text
CTRL + D = Open font formatting window
CTRL + E = Center text
CTRL + F = Find a phrase
CTRL + G = Go To a specific page or bookmark
CTRL + H = Replace text with another text or replace text with different formatting
CTRL + I = Italicize text
CTRL + J = Justify text
CTRL + K = Open Insert Hyperlink window
CTRL + L = Left align text
CTRL + M = Indent a paragraph from the left
CTRL + N = Open new Word document
CTRL + O = Open an existing Word document
CTRL + P = Print Word document
CTRL + Q = Remove paragraph formatting
CTRL + R = Right align text
CTRL + S = Save Word document
CTRL + T = Create a hanging indent
CTRL + U = Underline text
CTRL + V = Paste text
CTRL + W = Close Word document
CTRL + X = Cut text
CTRL + Y = Redo an action previously undone OR repeat an action
CTRL + Z = Undo a previous action