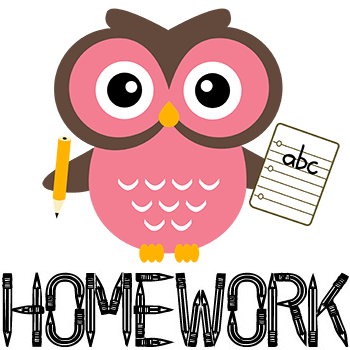 "Why do we have homework?"

Homework provides an opportunity for students to practice and reinforce the skills that are taught in class. Homework assignments are carefully chosen and the expectation is that all homework will be completed to the best of the child's ability.

Everyday Math Home Links

On most nights, students will be assigned a math Home Link worksheet to complete and return the following day. The worksheet reinforces that day's math lesson.

Forgot your home link at school? Print it out at home by going to connected.mcraw-hill.com/school/i2y8 and log in! OR: http://everydaymath.uchicago.edu/parents/4th-grade/em-at-home/

Reading Log on Edmodo

Students must read for a total of at least 15 minutes each night and write a thoughtful response on Edmodo. The students must read for a total of 4 nights of their choosing. Students must reply to one of their classmates on Edmodo.

Spelling

Students will be given their word sort dependent upon their skill level. Students need to complete an extra practice spelling worksheet and word sort. These will be due on Fridays and students will be tested on the spelling of these words.