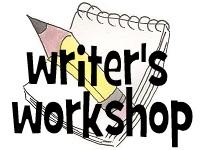 Our writing is taught through the writer's workshop approach. I have utilized writer's workshop in my classroom since the day I began teaching and it is definitely the most effective way to teach children to write. As a teacher, I act as a mentor author – I model effective writing techniques and conference with students as they move throughout the writing process. Students will develop independence as writers while learning to be better writers and learning to love writing.

Writer's workshop begins with a mini lesson based upon the overall class need for a particular writing piece. Possible lessons may be:

Developing a strong opening

Creating a stronger ending

Using dialogue

Elaborating on ideas

Using descriptive writing

Narrowing a story to make it more focused

After the mini-lesson, students spend about an average of 40 minutes writing, revising, and conferencing. You will be extremely impressed with the writing skills your child develops this year and will be very proud when you read the final drafts of each workshop!