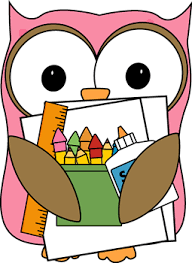 Supplies for First Grade
These are some items that we suggest to use
for 1st Grade.
 2-4 large size glue sticks (replenish each
month) No liquid glue please.
 1 marble composition book for Fundations
 1 large zip pouch for desk supplies
 1 box (6-8) low-odor dry erase markers
 1 pair of socks to use as an eraser for white
boards (clean old sox are fine, any color)
 1 dozen yellow #2 pencils (sharpened)

 1 pack of crayons (no more than a 24 pack)
 small scissors (blunt nose)

*Ear buds or headphones to keep in desk ( We will use ipads occasionally in class)

*Do not send in markers, color pencils, or
mechanical pencils.
*Please label all items with your child's
name.