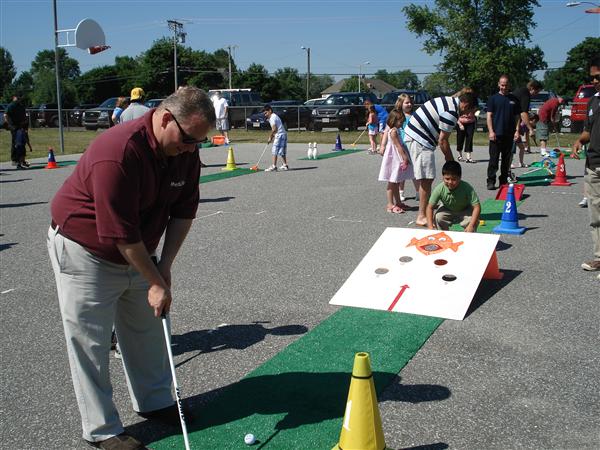 Special Events and Programs in Physical Education
Race For Education

The Race for Education will be held on Thursday, October 30th during your child's special area class time. This year's fundraising component of the 35 minute walk/run will be the "Race for Education" which is sponsored by the Hurffville PTO. The proceeds will benefit Hurffville Elementary School and it's students and programs. All students can participate in the walk/run during their physical education class regardless of whether or not they have raised funds. Simply make sure that your child wears soft rubber soled shoes or sneakers the day of the event. Students may also bring a water bottle if they choose. The bottle may only contain water and must have their name on it. Please do not send flavored water, Gatorade, juice, soda, etc. Donations for this event will be accepted throughout the month of October.

Jump Rope for Heart

This year our Jump Rope for Heart event will be held during Physical Education classes the week of February 5th-9th. Collection envelopes for this event will be distributed during the third week of January. They are due on or before February 9th.

Make sure to visit www.americanheart.org/jump in order to set-up an online donation page with your child. This is a fun and easy way to collect donations from friends and relatives who live far away!

Thank you gifts for students will be distributed sometime in late March. Until then, simply remind your child that the prizes are not truly the reason that we do the Jump Rope for Heart fundraiser. Encourage your child to focus on the lives they have helped save and the communities they have helped educate. Help your child understand that we do not do community service to get something in return, but instead to give to those who are in need. There is even a box you may check on the envelope if your child would like to opt out of getting thank you gifts and the extra funds saved will go to help fund additional research and save additional lives.

During the Jump event, students are also permitted to write the name of a loved one affected by Heart Disease or Stroke on a "Memory Heart". The hearts will be placed on display under two categories: "I'm jumping in honor of", and "I am jumping in memory of". This is another way to focus our efforts on helping real people that we know and love.

We will also be having a Jump Rope for Heart Poster contest! Awards will be given for most creative, most informative, most artistic, and an overall best poster winner. Posters are due on gym day the week of the Jump Rope for Heart event.

Thank you in advance for your efforts in raising funds and making donations to this very worthwhile cause. Together we can make a difference in the fight against America's #1 and #3 killers, Heart Disease and Stroke.

SHINE - Striving Harder in Nutrition Education

Students in all grade levels will participate in a five session nutrition unit called "SHINE" this year in addition to their regularly scheduled health and physical education period. "SHINE" stands for striving harder in nutrition education. A Washington Twp. Education Foundation grant was obtained to fund this program for our students. During this unit, students will learn about the new food guide pyramid and how it can be used to make wise food choices at any age. Students will work in small groups to place various foods into the appropriate food groups and select which nutrients each food provides them with. Students will also learn how to read a nutrition fact label in order to aid them in making wise food choices. For older students, there will be an additional focus on serving sizes. Actual food will be used by the students as they try to estimate about how much of a particular food is considered one serving. At the end of the lesson, true measurements are shown for the actual serving size of each food. Students are amazed by how much is actually considered one serving. It is easy to see how it is possible to overeat and why obesity is a growing epidemic in our country.

"SHINE" is a program designed to teach students the skills necessary to make healthy food choices. The skills taught through this program will enable students to take responsibility for their personal nutritional health at an early age. It is a proven fact that lifelong eating habits are formed during the pre-adolescent years. Once habits are formed, they can be very difficult to change. Therefore, reaching students at the elementary level is crucial. Through the "SHINE" program, students in grade one will learn basic information about the food groups and will be able to categorize the foods they eat. In grade two, students will continue to learn more in depth information about the food groups including their characteristics, nutrients, and daily serving amounts. Students will be able to identify which foods groups mostly provide protein, calcium, carbohydrates, fat, sugar, etc. In third grade, students begin to learn about constructing a balanced diet using the food guide pyramid. Students will be able to select foods from each group to create a well proportioned meal that meets their personal dietary needs. In fourth grade, students will begin learning about portion distortion, food marketing, fast food and other areas that influence eating habits. Students will be able to distinguish true food claims from false advertising and make healthy selections when dining out. In fifth grade, students will learn to read and understand food labels and use them to make wise food choices. Students will be able to identify the different nutrients on a food label and will use the "rule of ten's" in determining whether a food is a good, moderate, or poor choice. Students will participate in "virtual shopping" in order to choose products that are healthy and suitable for their nutritional needs. This comprehensive design to teaching nutrition education meets the NJ core content standards and exceeds our current curricular benchmarks in the area of health education.

Fitness Club (Fitness is Fun) - Grades 4 & 5

Health education and physical activity education in schools are the cornerstone of an active and healthy lifestyle for all students. School programs provide the skills, knowledge, and attitudes that facilitate choosing physical activity and healthy eating habits after school, at home, and in the community. Here at Hurffville Elementary School, we are committed to providing as many opportunities as possible for children to learn healthy habits and improve their lifestyle.

Several years ago, Hurffville School was the recipient of a "Go Active" McDonalds Grant which funded a program within our school called Fitness is Fun. Ongoing funding from a Washington Township Education Association Grant has allowed us to continue this wonderful program. This program is conducted by the physical education teacher, Melissa McNally. The program focuses on teaching children how to lead a healthy lifestyle and aims to help students put these concepts into practice in their everyday lives. The program is voluntary and is open to all students in grades 4 and 5 with parental permission required. As a highly qualified physical education teacher, I pledge to:

Establish a positive, safe learning environment for all students
Create maximum opportunities for students of all abilities to be successful
Promote student honesty, fairness, integrity, and understanding of differences
Facilitate the development and maintenance of physical fitness
Assist students in setting and achieving personal goals
Educate students and their families on current health issues
Teach a variety of skills that make exercise fun and enjoyable
Provide specific, constructive feedback to help students master health related skills
Afford opportunities for parents to partner with their children in educational sessions
Prepare and encourage students to practice healthy habits and be active for a lifetime
Protect the privacy of each student throughout the duration of the program

If you are interested in this valuable learning opportunity for your child, please sign a permission slip (given to 4th &5th grade students in September) and return to Mrs. McNally by October 1st. If you have any questions pertaining to the program, please feel free to contact Mrs. McNally at extension 4010. I thank you in advance for your support of this much needed program.

Monopoly Madness

This new unit is an interdisciplinary unit designed to integrate Math into Physical Education. The concept behind monopoly madness is to have students use monopoly money to practice mathematical concepts such as purchasing properties, paying bills, making change, and saving. Students rotate through twelve target based stations where they practice physical skills such as throwing, striking, and rolling through participation in activities such as golf, Frisbee, bocce, shuffleboard, horse shoes, and bowling. These are all activities that students will encounter throughout their lives in various social situations. At each station, students can earn monopoly money based on their performance. Counting their money, adding and subtracting money, making change, and purchasing properties helps students understand how math and money are part of everyday life. Keeping track of the students earnings also acts as a great assessment tool for their physical skills as well. To see a video clip of this unit, click on the attachment below.

Click to open

Fathers Day Tee

This event is designed especially for our first graders and their dads! Each year, just before Father's Day, we invite the Dads of our Hurffville 1st graders in for some miniature golf! Dads team up with their children to putt through 9 holes of miniature golf and enjoy refreshments with their children back in the classroom. This fun filled event helps bring kids together with their dads to create a memorable experience for both child and father. This is also another Hurffville exclusive event coordinated by the Physical Education teacher and the 1st Grade teachers.