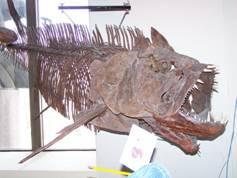 Phone: 856 589-8500 x 7522
Email:
Degrees and Certifications:
BS - Physical/Earth Science (Glassboro State College, 1991)MS - Geoscience (Mississippi State University, 2007)NJ State Teacher Certification - Physical Science & Earth Science
Mrs.

AF Carpinelli

I have worked at WTHS since 1991. I hold degrees in Physical Science (BS '91) and Geoscience (MS '07). I currently teach Physics (AP 1 and Honors) and Atmospheric/Space Science. My particular areas of interest are paleoclimates and NJ geology. The picture at the left is a Xiphactinus audax (Bulldogfish) of the late Cretaceous. It swam in the warm waters of the Western Interior Seaway of North America. This speciman is displayed at the Academy of the Natural Sciences in Philadelphia.

Follow me on Twitter: CarpinelliGeoSc
Need a tutor? Use this link to request a science tutor from the National Science Honor Society.