Hurffville Elementary School Names April Huskies Students of the Month for Perseverance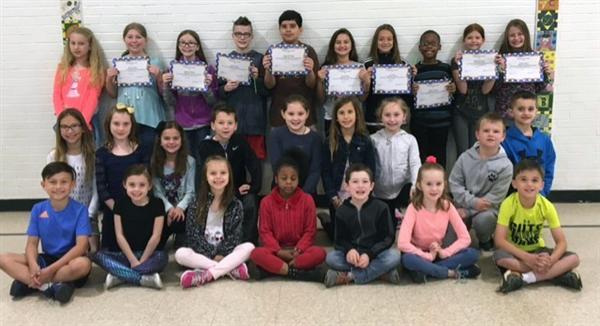 WASHINGTON TOWNSHIP – Hurffville Elementary School Principal Jeff Pollock on Thursday announced the school's "Hurffville Huskies" Students of the Month for April. Recognized students were chosen for demonstrating the character trait of perseverance.
Selected Hurffville students included (pictured above):
Grade 1
– Kahni Jones, David McKernan, Julia Bradley, Haylee Marakovits, Nola Baselice, Sophia Harris, Savannah Cox, Christian LeCompte, Coleman Bright;
Missing from photo
: Gianna DeCotiis.
Grade 2
– Christopher Lew, David Haddad, Julia Nigro, Allison Reinherz.
Grade 3
– Lana Antonelli, Natalia Nigro, Autumn Gavigan, Trey Egan.
Grade 4
– Alex Sirakides, Sydney Borkowski, Ally Kelly, Wyeth Tunnell.
Grade 5
– Josselyn Connor, Dante' Moustakas, Sophia Laubin, Michaela Rosenfeld, Owen Cooper.
- WTPS -