Return to Headlines
Whitman Elementary Second-Graders Live Chat with Legendary Chimpanzee Expert Jane Goodall
There was no monkeying around in Jen Campbell's and Inta Byers' second-grade classroom at Whitman Elementary on April 2nd, though it would have been understandable given the circumstances. As part of a non-fiction reading and writing unit on famous women, the students had an opportunity to participate in a live chat with world-renowned English primatologist and anthropologist Dr. Jane Goodall, whose biography as the world's foremost authority on chimpanzees many students had researched. The Whitman class joined students from every corner of the country and the world in a discussion with Goodall on the eve of her 85th birthday.
"I always wanted to live with animals, not necessarily just chimpanzees, and write books about them," said Goodall, who famously took an earthworm to bed with her as a child. "I moved to Africa and was introduced to the chimpanzees by Dr. Robert Leakey, and this changed the course of my life."
Goodall talked about the patience that is needed to study animals and how she gained the trust of chimpanzees and came to know more than 100 of them personally through her studies of their social interactions in the wild at Gombe Stream National Park in Tanzania. The founder of the Jane Goodall Institute (JGI) and the Roots & Shoots program, she also explained the important role that children play in making a difference in the world through the way they treat other people, animals and their environment.
Once her presentation was complete, the students were able to submit questions for Dr. Goodall to address. The Whitman students had many.
Did you interact with other animals besides chimpanzees? How many countries have you visited? How many chimpanzees have you saved?
"It's amazing at her age that Dr. Goodall is still working and educating," Campbell said. "We feel fortunate to have been part of this conversation."]
Ms. Campbell and Mrs. Byers' students have become guardians to a baby chimpanzee named Kabi, who was stolen from its mother by poachers, and will be receiving a certificate, a photo of their chimp and a stuffed chimpanzee for their classroom to commemorate the adoption. To learn more the chimpanzee guardian program, please visit https://shop.janegoodall.org/chimpguardian.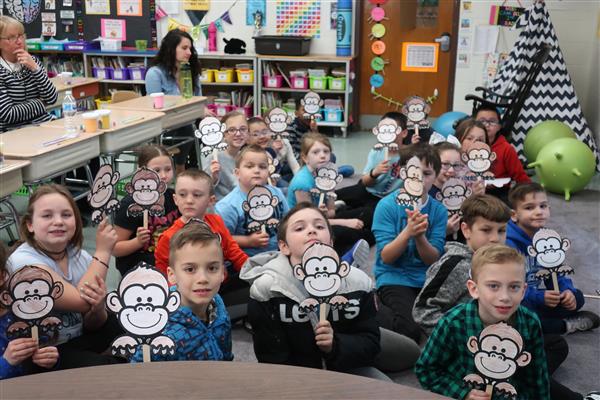 Whitman second-graders had crafted monkey masks prior to their live chat with chimpanzee authority Dr. Jane Goodall on April 2nd.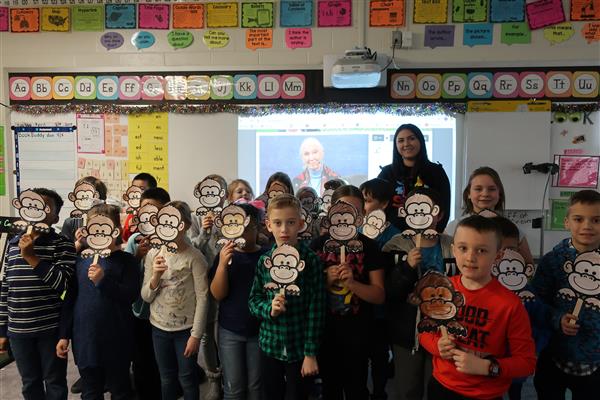 The class posed for a "selfie" with Dr. Goodall.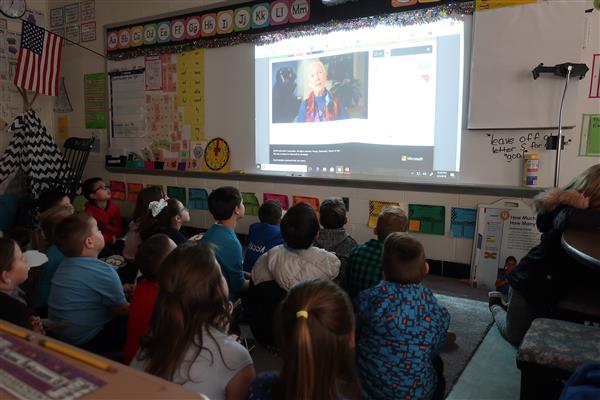 The students listened to Dr. Jane Goodall share her information on how she gained the trust of wild chimpanzees and how her passion turned into scientific study.