Return to Headlines
When Life Gives You Lemons ...
Wedgwood Elementary School Teacher Ties in Education, Community Service at 15th Annual Lemonade Stand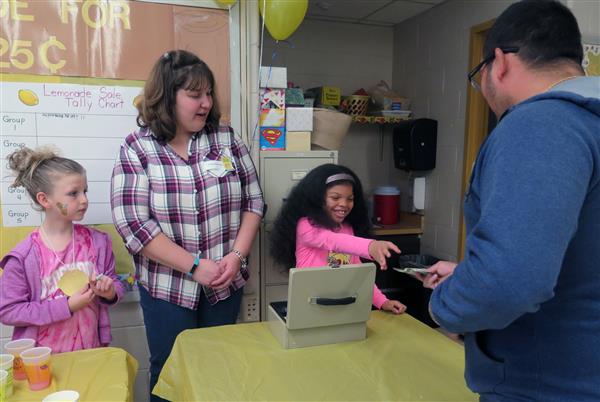 WASHINGTON TOWNSHIP – Wedgwood Elementary School second-grade teacher Marla Ruh and her students hosted her 15th Annual "Lemonade for Sale" extravaganza for students, selling hundreds of cups of lemonade for 25 cents apiece on Friday, April 5th.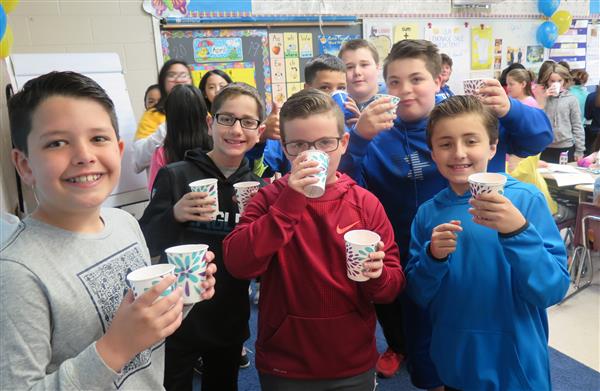 The lemonade stand was open starting at 10 a.m., and the class sold lemonade to fellow students and staff as part of a math unit on money, charts, and sales. The proceeds from the sale will be donated to the Alex's Lemonade Stand Foundation for Childhood Cancer. Students took turns as greeters and cashiers, as well as assisting with handing out the lemonade and collecting trash. They even kept a tally of every cup of lemonade they sold. The final tally included 992 cups of lemonade sold and $1,517.80 raised for the foundation.
The lemonade stand had its share of VIP guests on Friday, including Tatiana Cunningham from the Alex's Lemonade Stand Foundation, who brought wristbands for the students hosting the event. Other VIPs included: District school board member Ginny Murphy, Superintendent of Schools Joe Bollendorf, Director of Elementary Education Gretchen Gerber, Mrs. Washington Township Deborah Wright, Washington Township Mayor Joann Gattinelli, and Washington Township Police School Resource Officers John Hamilton and JJ Bilderback and other members of the force.
The sale has a special meaning in Washington Township, where a number of District students are survivors of neuroblastoma, the form of cancer that afflicted Alex Scott, founder of Alex's Lemonade Stand Foundation. Scott died from her cancer at age 8. This is Ruh's seventh year holding the event at Wedgwood, after hosting the stand the previous eight years at Birches Elementary School.
Click here for more photos from the event.
- WTPS -