Return to Headlines
She is Mrs. Washington Township!
Birches Assistant Proudly Wears "Mrs. Washington Township" Sash While Giving Back to Her New Community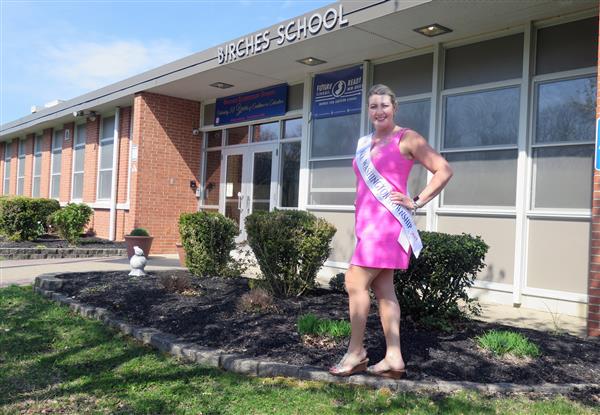 WASHINGTON TOWNSHIP – Ever since she was a young girl, Deborah Wright has wanted to be involved in her community, helping others and making an impact. When she moved from Pennsylvania to Washington Township last June, she wanted to use her background in pageants and her giving attitude to both get to know people in her new community, while also giving back.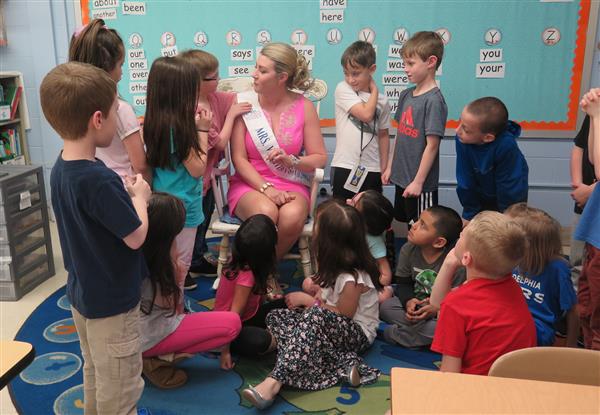 And that's how Mrs. Washington Township was born. The newly minted New Jersey resident filled out the requisite paperwork, did an interview with a regional pageant representative and became what she believes is the very first Mrs. Township.
"I had given up pageants when I had my daughter (Elle, a third-grader at Hurffville Elementary School), but when I moved here I thought this would be a great way to meet new friends and to get to know the community," said Wright, a part-time educational assistant at Birches Elementary School. "I wanted to be purposeful, and I also wanted to set a good example for my daughter. But I also wanted to do something for Mommy. And here we are."
Wright is preparing for the annual Mrs. New Jersey pageant, which will be held on May 19, 2019, at 6:30 p.m. at the DoubleTree Hotel in Princeton. There, she will compete against close to two dozen or more other women for the crown and a chance to represent the Garden State at the Mrs. United States pageant in Las Vegas this summer.
Now, Wright is balancing her life as a mom and a school assistant, while trying to get her name – and title – out there as much as possible. Recently, she has made appearances at the Relay for Life, an Alex's Lemonade Stand Foundation fundraiser, guest reader events, veterans' events and more. She has met with Washington Township Mayor Joann Gattinelli, and hopes to volunteer at more township activities where she can wear her sash and also lend a hand.
"I think the community has embraced it, and I want to do more," said Wright, whose most recent pageant success was winning Galaxy International title as Mrs. Pennsylvania in 2009. "I'm my own agent. I keep saying, 'I'm here. I think I'm the first ever. And if I can be a part of anything to help, I want to'."
The Mrs. New Jersey pageant categories include evening gown, swimsuit, interview, on-stage question, and state costume. The last category really got Wright's creative juices flowing. She can't wait to show off her costume, which she wants to keep a secret. In the meantime, she is keeping the focus on community service and her H.O.P.E. platform, which is "Helping Other People Everywhere."
Wright is available for Mrs. Washington Township appearances and as a volunteer. She can be reached via email at deborahwright2010@gmail.com.
- WTPS -