Return to Headlines
WTHS Math Teacher Among Presenters at ISTE Conference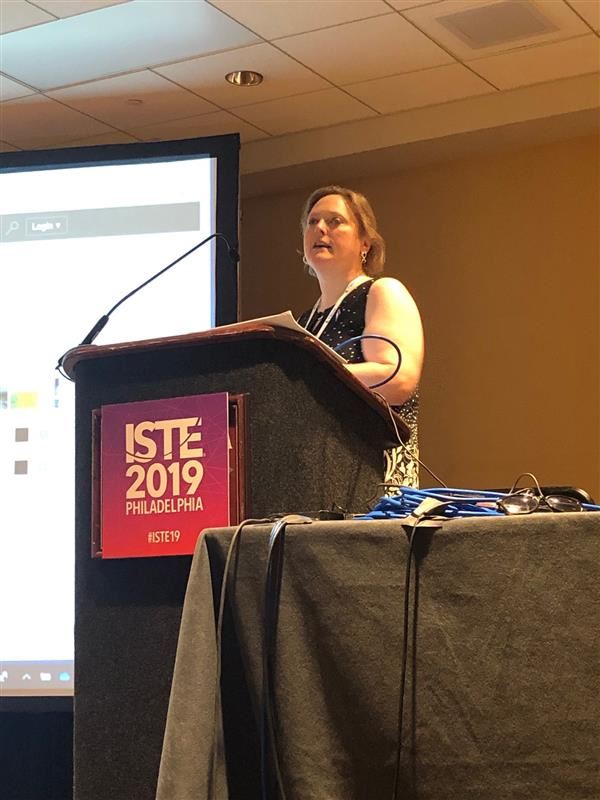 Memes – activities, concepts, catchphrases or pieces of media that spread from person to person via the internet – have changed Washington Township High School math teacher Sharon Serano's life. A meme activity that Serano dreamed up several years ago as a way to engage her students proved instantly popular and effective, and Serano has since expanded the use of the meme as an effective teaching tool to make math more creative, humorous and fun.
During the recent 2019 International Society for Technology in Education (ISTE) Conference, hosted June 23-26, 2019 in Philadelphia, Serano stepped up as a volunteer presenter to share "Using Memes in the Classroom."
Opening the session with her video "Math Meme Project 2019" (https://youtu.be/NJIVGjaeWFQ) where she shared submissions from her students, Serano incorporated suggestions from her colleagues, current and retired, and led attendees through a variety of ways that memes could enhance classroom instruction. Among other recommendations, she shared examples of how the technology can be used for extra credit opportunities, advertisements for books, review for a test, vocabulary usage, valentine cards, posting outside the classroom door or bulletin board, voting using meme challenges and advice for future students.
At the end of the session, Serano provided instructions on how to create memes and encouraged participants to give it a go. She then used these new creations to create a video "Using Memes in the Classroom (ISTE19)" (https://youtu.be/JkN4b6oIUdY) and shared the link back to contributors.
Serano's YouTube channel (https://www.youtube.com/c/sharonserano) has surpassed 1,000 subscribers and contains more than 60 videos on topics including pre-algebra, algebra 1 and 2, geometry, trigonometry and pre-calculus. Her videos have been viewed worldwide and her channel has logged almost 400,000 views since its inception in 2014.
"This channel is a labor of love for me," Serano said. "I'm happy to contribute quality math instruction to all."