Return to Headlines
Annual Awards Remember "Mr. Roz"
District Middle Schools Name Winners of Annual Dan Rozmes Spirit Awards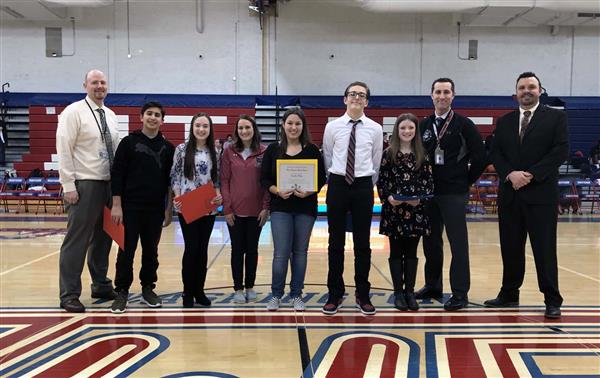 WASHINGTON TOWNSHIP – Washington Township's three middle schools – Bunker Hill, Chestnut Ridge and Orchard Valley – presented their annual Dan Rozmes Spirit Awards at the Washington Township High School boys basketball game against Bishop Eustace on Tuesday, February 5, 2019.
The awards are named after Rozmes as a way to remember and celebrate his legacy. During a career that spanned more than 30 years, Rozmes served the Washington Township School District as a teacher, guidance counselor, principal and friend before passing away on July 16, 2010, after a long battle with leukemia.
The Dan Rozmes Spirit Award winners include: Daniel Wilson and Abigail Brown (BHMS); Ceceilia Petta and John Garozzo (CRMS); and Ghazi-Jacob Alfakhouri and Kaitlyn Murphy (OVMS). The eighth-grade students were chosen by their teachers, school counselors and administration because they possess the characteristics that Mr. Rozmes promoted – selflessness, charisma, and an upbeat, positive approach to others.
In the above photo, District Dan Rozmes Spirit Award winners pose at Tuesday's WTHS boys basketball game. They include (left to right): District social studies supervisor Jeffrey Snyder, OVMS recipients Ghazi-Jacob Alfakhouri and Kaitlyn Murphy, OVMS school counselor Natalie Marakowski, CRMS recipient Ceceilia Petta, BHMS recipients Daniel Wilson and Abigail Brown, BHMS principal Mike D'Ostillio, and WTHS principal Jonathan Strout. CRMS recipient John Garozzo was unable to attend.
- WTPS -