Return to Headlines
WTHS 3-D Printer Brings Student Innovations to Life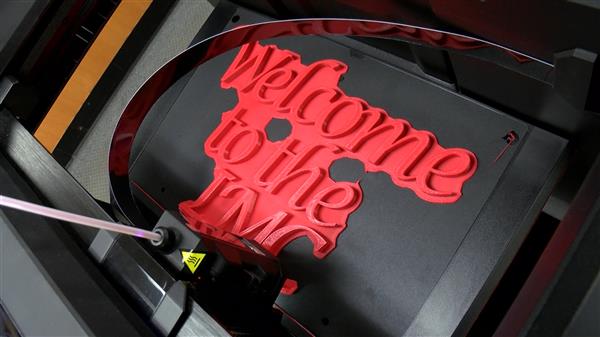 Washington Township High School marketing students soon may be creating prototypes of logos; art students – miniature sculptures; science students – models of the heart. These possibilities are thanks to a new 3-D printer that recently was gifted to the school's Instructional Media Center. A $3,700 grant from the Washington Township Education Foundation left librarians Denise Skow and Karen Johnson giddy with delight when they considered the myriad options of the printer's use and the opportunities to enhance student learning in a STEAM-fueled curriculum (science, technology, engineering, art and mathematics).
The librarians created "Makerbot" accounts and dove into "Thingiverse," a website dedicated to sharing digital design files.
"Access to 3-D printers is something that most modern libraries have," Johnson said. "We wanted to introduce our students to another way of creating projects. We will be collaborating with teachers to determine student objectives and finding creative ways to include this new technology in their coursework."
"We were fortunate to get the grant from the WTEF, and we already have students stopping in to give us ideas of what they would like to create," Skow said. "We are still experimenting. It's been a learning experience."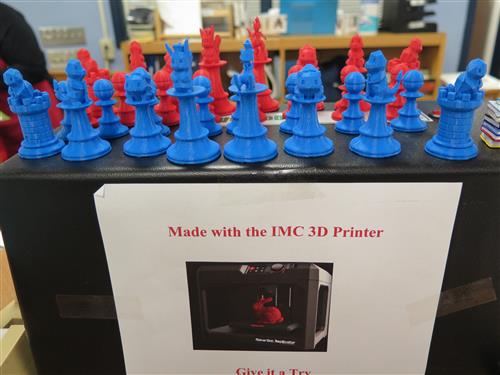 The grant not only covered the cost of the printer, but also the expense of the colored filament reels that are threaded into the machine to produce 3-D prototypes of everything from puzzle pieces to figurines. There is also a clear filament option that then can be painted, if desired.
The librarians have proudly displayed several of their completed 3-D projects, including a miniature LOVE sculpture, a Pokemon chess set, and a skull and engraved pumpkin. They currently are using the equipment to craft new signage for the IMC. Some of the projects require upwards of 12 hours to complete.
"You select or create your design, load it onto a flash drive, decide on your filament color and select the parameters for your project," Skow said, "and the machine does the rest. The design possibilities are limitless."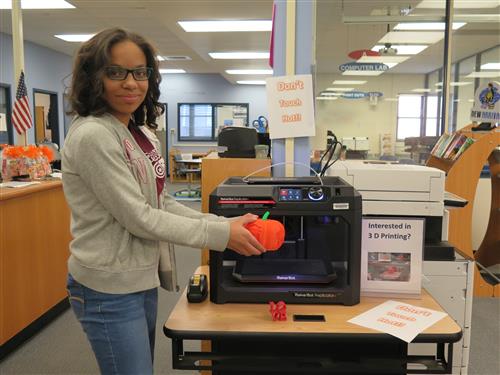 WTHS freshman Neena Puro displays some of the completed projects that have been crafted on the IMC's new 3-D printer.