Return to Headlines
Wedgwood Elementary School Fifth-Grader Vincent Valentino Claims School's 24 Game Championship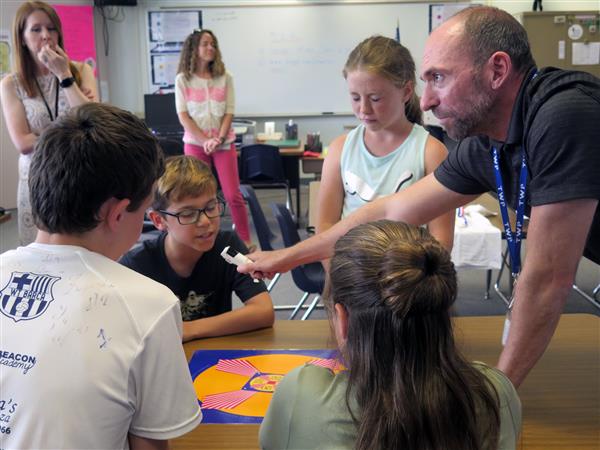 WASHINGTON TOWNSHIP – Vincent Valentino just could not be stopped. The Wedgwood Elementary School fifth-grader answered the first eight cards correctly in the championship round, cruising his way to the title in the school's sixth-annual 24 Game Championship Tournament held on Wednesday,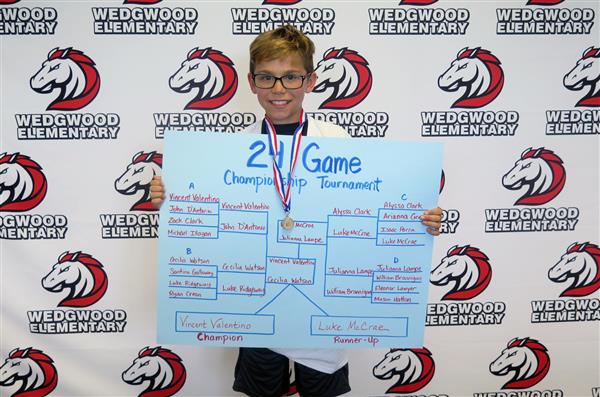 June 5, 2019. A student in Mrs. Emily Ehret's class, Valentino outlasted fellow fifth-graders Luke McCrae, Julianna Lampe and Cecilia Watson in the final round. McCrae was deemed runner-up, winning a sudden-death tiebreaker after he, Lampe and Watson finished in a three-way tie behind Valentino.
"Practice," Valentino said when asked what his key to success was. "You look for patterns like 8x3 or 6x4 or 12x2."
The final round was practically a legacy competition. Valentino, who was a finalist as a fourth-grader, followed in the footsteps of his brother, Michael, who won the title in 2015. McCrae's brother Jackson was the 2016 champion. And Watson's brother, Nicky, is the only back-to-back winner in tournament history, winning in 2017 and 2018.
As the champion, Valentino won a T-shirt, a gold medal and other various prizes. McCrae took home a silver medal for second place. Each of the 16 classroom representatives received certificates and 24 Game wristbands.
The 24 Game is a card game in which the object is to manipulate four integers so that the end result is 24. Addition, subtraction, multiplication and/or division may be used to make the four digits equal 24. Wedgwood fourth- and fifth-graders have been practicing the 24 Game for several months. Each classroom recently held its own competition, with the top two finishers from each room advancing to Wednesday's championship tournament. The semifinals, featuring 16 Wedgwood students, were held earlier in the day, and the final round was televised live on Safari Montage.
Classroom representatives from each of the fourth- and fifth-grade homerooms included: Eleanor Lawyer and Arianna Correa (Danser); Ryan Crean and Mason Hatton (DiGrazio); Michael Illagan and Zach Clark (Garten); Luke Ridgeway and Isaac Parra (Haines); Julianna Lampe and John D'Antonio (Bonfiglio); Cecilia Watson and Alyssa Clark (McGough); Williams Brannigan and Santino Galloway (Evans); Luke McCrae and Vincent Valentino (Ehret).
- WTPS –