Return to Headlines
Birches Elementary School Students Using Coding to Work with Robotics Kits as Part of Digital Literacy Curriculum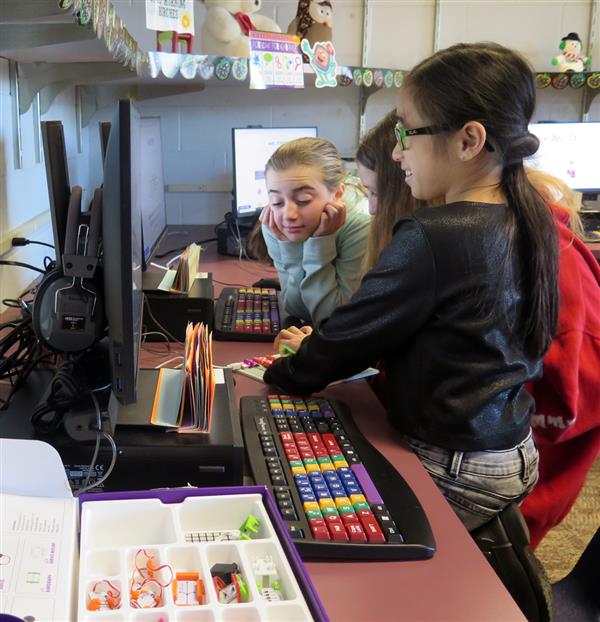 Birches Elementary School fifth-graders (left to right) Isabella Staino, Hannah Mroz and Alessandra Caballero try out different codes to make their robotics kit circuit create sounds.
WASHINGTON TOWNSHIP – Bringing STEM into the classroom for all students was the focus for the Washington Township Public Schools, according to District Career and Technology Education supervisor Steve Whalen. On Friday, January 24th, that curriculum was out in full-force in Birches Elementary School computers teacher Nicole Strate's fifth-grade classes.
The update to the District's curriculum included a digital literacy component. On Friday, the students broke up into small groups and worked on a robotics kit that tested their knowledge of coding. The students took to it quickly.
"For the last few years, we have been trying to bring STEM into the elementary curriculum," Whalen said. "We were fortunate enough to begin with our talented and gifted students. But what we had been hoping for was to provide this STEM education to all of the students in our schools. This is one great example of that."
The kits the students used included several pieces that had to be connected into a circuit. While they had a model to help them create the circuit, there were ways to connect the pieces that would allow the kits to do more interesting things. Once the circuits were connected properly, the students used a coding program on their computers to create images and sounds with the kits. By the end of the class, some of the groups were playing the role of disc jockey, matching up different sounds with lights and images on their circuit.
"It gets a little loud in here, but they are enjoying themselves," Strate said of the very non-traditional style of learning.
Click here for more photos from the project.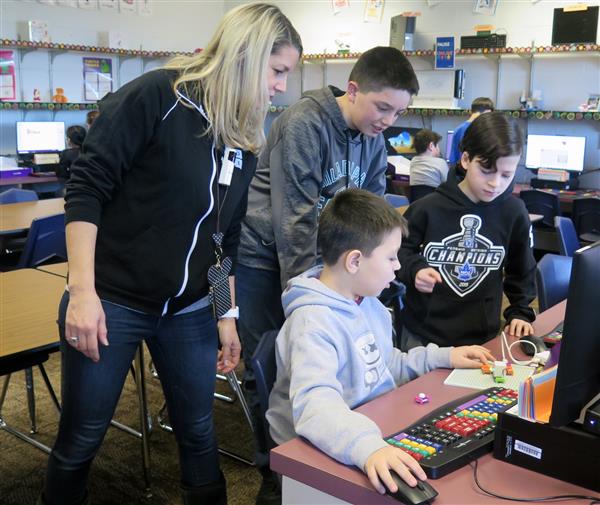 Birches Computers teacher Nicole Strate (left) checks out the handiwork of fifth-graders (l to r) Mateo Bermejo-Witt, Christopher Rayca and Brandon Fitzpatrick.
- WTPS -