Return to Headlines
Fourth-Grader Luke Heim Wins Wedgwood Elementary School First in Math Multiplication Tournament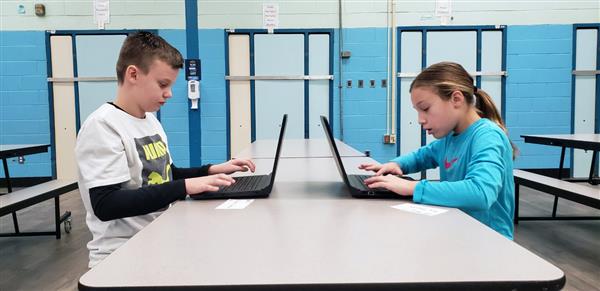 Fourth-graders Luke Heim (left) and Ava Powers compete in the championship round of the First in Math Just the Facts for Multiplication Fourth Grade Tournament.
WASHINGTON TOWNSHIP – Wedgwood Elementary School fourth-graders were ready to show off their multiplication speed on Monday, January 27th, as 51 students entered the with their laptops to take part in the First in Math Just the Facts for Multiplication Fourth Grade Tournament. Once all the problems were solved, it was Luke Heim edging Ava Powers to take home the overall championship. Both students answered every question correctly, but Heim finished just seconds earlier to earn the crown.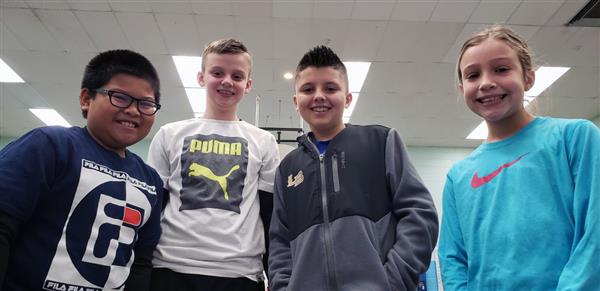 As students entered the Wedgwood all-purpose room, they searched for their place at one of the tables ready to log into First in Math, an online supplemental math program that uses a gaming approach to increase math interest and improve student performance. Once there, the students were ready to begin the five-minute session of Just the Facts for Multiplication to see who would answer the most multiplication facts correctly in the shortest amount of time. Winning students advanced to the next round, ready to again demonstrate their fact fluency.
In the semifinal round, Heim advanced by defeating Kevin O'Donnell, while Powers reached the finals with a win over Eljon Viray. Elite Eight competitors included Heim, Powers, O'Donnell, Viray, Andrew Begley, Noah Raberi, Alycia Dymond and Andrew Huynh.
The tournament, organized by Wedgwood math teachers Domenick Renzi and Autumn Mattera, was a huge success, as students not only had fun, but also became more fluent in their multiplication facts.
Competitors in the Just the Facts for Multiplication Fourth Grade Tournament included: Andrew Huynh, Justin Karasik, Kori Leacott, Giselle Mascieri, Judah Nalbandian, Maggie Petrelli, Noah Raberi, Devon Stott, Isabella Albright, Micah Brown, Alexander Bush, Alivia Dingler, Gabriel Jordan, Lucas McCabe, Kevin O'Donnell, Ava Powers, Romeo Simonelli, Qarrel Singleton, Eljon Viray, Sophia Watson, Kaylie Garton, Maliya Lightfoot, Kali Messick, Jayden Nunoo, Elise Pilla, Brooklyn Piperata, Lindsay Pomfret, Alex Puro, Connor Rainey, KaiQi Yuan, Domier Abdussalaan, Jake Bauer, Madalyn Boyle, Alycia Dymond, McKinley Edwards, Jacob Franchi, Ella Goehringer, Luke Heim, Devon Johnson-Mosley, Mi'Anna Kersey, Alexa Redman, Sydney Steinberg, Isabella Wicken, Faith Antell, Catherine Aversa, Andrew Begley, Kara Epstein, Alexis Ingling, Joseph Pirolli, Nadia Raberi, and Luke Wheat.
In the above photo, tournament semifinalists (left to right) Eljon Viray, Luke Heim, Kevin O'Donnell and Ava Powers pose for a group photo.
- WTPS -