Profile
Our present enrollment is approximately 500 students in grades one through five. The average class size is 20 students per class.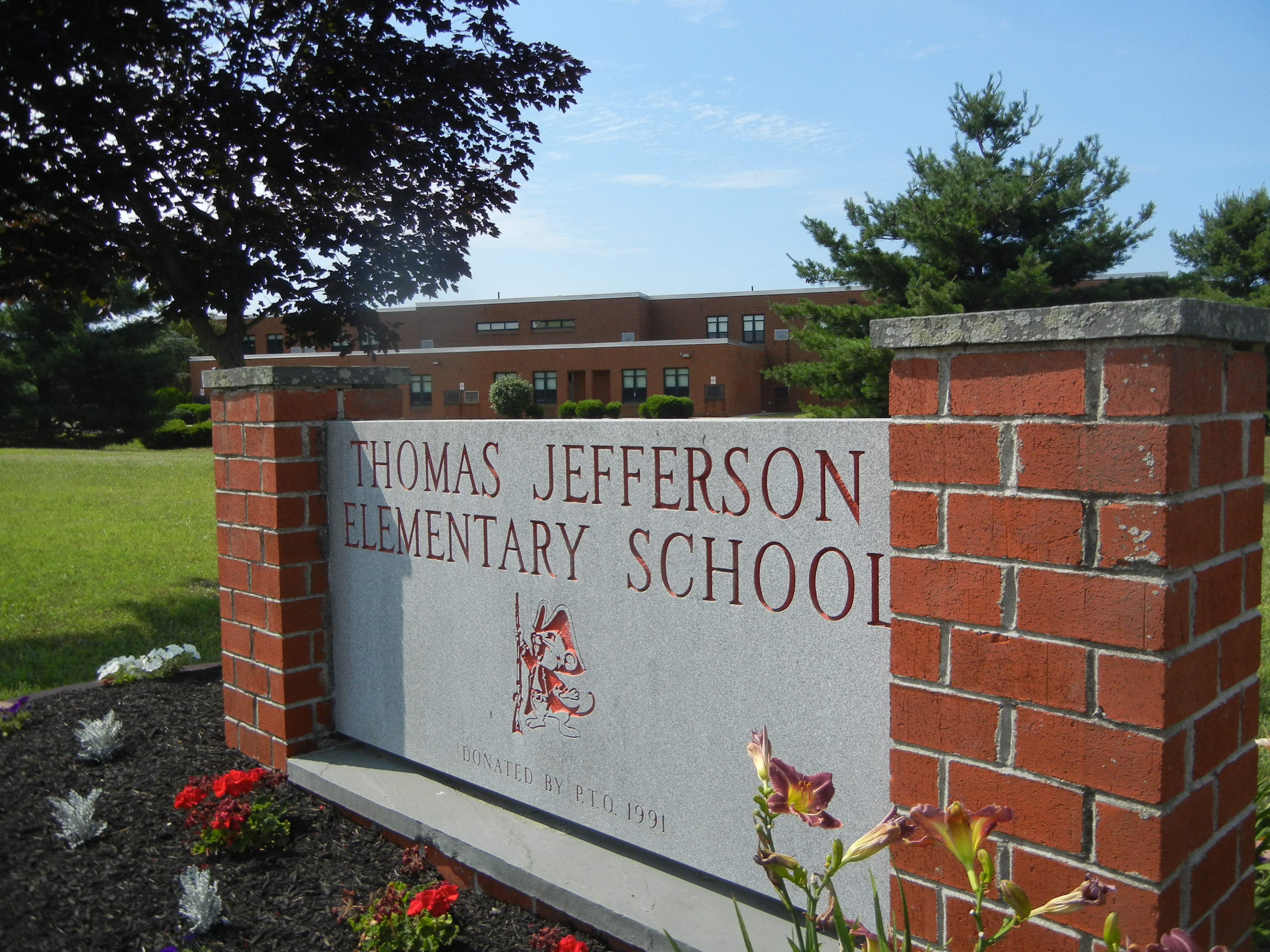 We currently have one Transitional first grade class, 4 classes each in grades one through five, and two self-contained Special Needs classrooms.
We have a teaching staff of 57, a principal and an assistant principal and a support staff of 37.
Thomas Jefferson Elementary School has an active and supportive PTO.
ACADEMIC ACHIEVEMENT
Once again, Thomas Jefferson School students performed well above the national average. The percent passing for standardized testing was above the state average in reading, language arts, math and science on the IOWA/ESPA tests. Other forms of student assessment indicate a high percentage of student achievement. Parents are sending the majority of students to school with a value for quality education.
Curriculum improvements continue as specified by the district Curriculum Revision Plan. This year the children are receiving instruction through a new Math Curriculum that focuses on problem solving, higher level thinking and inquiry-based learning in addition to the basics. Children in grade 3 are receiving instruction in Spanish for the first time. Other areas of focus besides academics are Conflict Resolution strategies, making friends, DARE (Drug and Alcohol Resistance Education), CAP (Child Assault Prevention), and safety education issues like Fire Prevention and Bus Safety.
The school continues to integrate technology through the purchase of newer computers with CD-ROM's, use of the Internet to enhance instruction, use of student laptop computers to publish student writing, and technology lessons which challenge children to think and solve problems. Thomas Jefferson students have access to computers in every classroom, as well as the use of a computer lab.
To supplement academics throughout the year, programs like TAG, PEP (Primary Enrichment Program), and a Tech Meet, are in place. Several assemblies are held which provides additional lessons in science, social studies, reading, writing and Multicultural studies. Classroom teachers continue to sponsor Author's Teas to showcase student writing, the READ (Read Every April Day) Program, and many guest speakers come into the classrooms to present information on a variety of topics. Family Math, Family Science, and Family Computer nights are offered. Parents will also be offered special workshops, which focus on helping children at home.
PARTICIPATION AND RECOGNITION
Students are recognized each marking period for academic achievement with certificates and award pencils. Students attaining perfect attendance also receive recognition. Students achieve recognition, too, through the President's Award for Academic Fitness and Physical Fitness. Each month students are recognized as "Caring Students" and receive special certificates for that distinction. An after school "Homework – Share-A-Book" program is offered through the Adopt – A – Grandparent organization and Cardinal Village senior citizen volunteers. Washington Township's long tradition of outstanding performing arts and sports program is certainly reflected in the enthusiasm demonstrated by our students towards the activities offered at Thomas Jefferson School.
QUALITY STAFF
Thomas Jefferson School is proud of its excellent staff. Both professional and support members participate in workshops and professional development. Teachers participate in many district and graduate level courses in the areas of computers, technology, literacy, Multiple Intelligencies, CPR, Science, ESPA, strategies, and special education reading programs just to name a few. Many Thomas Jefferson teachers are trained in Reading Recovery Orton-Gillingham Reading strategies.
QUALITY FACILITIES
Facility improvements are implemented as budget constraints allow. The heating/air conditioning units are gradually replaced each year. The building has been totally wired to accommodate the latest technology, which includes a teacher computer workstation, which is on-line in each classroom, and TV-computer hook-up in each classroom, the use of email and voicemail. A new PA system is to be installed this year. Maintenance is on going. Library books are added to the Media Center each year and the library system is automated.
PARENT AND COMMUNITY INVOLVEMENT
Parents provided home support for academic achievement. They supported the PTO, visited classes to read, give presentations, or assist with class activities. Parents also worked on the Book Fair, fundraisers, the Ice Cream Social and sponsored a 5th grade End-of-the Year Party, and Awards Breakfast. The PTO sponsored an early morning Spanish class for 4th and 5th graders, purchased a digital camera, sponsored assemblies and provided scholarship money to high school seniors. Parents worked closely with teachers to create learning opportunities at home in support of school programs.