Ginny Murphy — President
(Term Expires: December 31, 2017)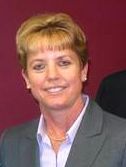 Ginny Migliore-Murphy is a 36-year resident of Washington Township, and a 1983 graduate of Washington Township High School. She is also a member of the W.T.H.S. Sports Hall of Fame. A 1987 graduate of Ursinus College, she has spent the past 28 years in the insurance and risk management business. Ginny holds insurance licenses in 10 different states, and currently serves as the Liability Risk Manager for a large company in Philadelphia.
Ginny and her husband Kevin have been married for 27 years and have two sons, Ryan (23) and Matthew (20).
Ginny is honored to serve on the Washington Township Board of Education, and will work hard to ensure the schools provide superior educational services while also maintaining fiscal responsibility.
Ginny can be reached via email at: GMurphy@boe.wtps.org