Return to Headlines
31 Washington Township High School Students Earn Seals of Biliteracy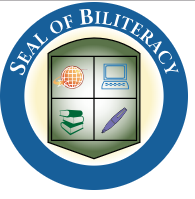 District World Languages Supervisor Rosemarie Armstrong proudly announced that 31 Washington Township High School students have qualified for the New Jersey State Seal of Biliteracy. The Seal will accompany the students' high school transcripts and documents individual achievement of intermediate to high level in speaking, listening, reading and writing of a foreign language. A certificate prepared by the Commissioner of Education also will be awarded to each student.
"The world languages department continues to seek cultural and global opportunities for our students," Armstrong said. "We commend these students for their language proficiency and for the work that went into achieving these seals in the midst of a global pandemic. There is great benefit to these students who have mastered more than one language. We applaud and celebrate their achievements under less-than-ideal circumstances."
Chinese: GuanYi Cao
French: Olivia Day, Anthony Pancrazio, Chloe Pecheux, Mackenzie Sozio, GuanYi Cao
German: Bartholomew Buonocore, Allison Cangelosi, Cameron Lyons, Adria McMeekin, Anthony Pancrazio, Sophie Rollins, Sabrina Sims, Shea Watson
Hebrew: Anthony Pancrazio
Spanish: Brianna Agron, Trina Basu, Avarie Berndlmaier, Aaron Boylan, Juliana Castellan, Emma Cueva, Kathryn Cullen, Zarna Dhruve, Daniel Giovinetti, Annabel Guo, Kendall James, Riley Jetter, Nicole Jimenez, Joniel LanFranco, Alaina Lewis, Alyssa Marrero, Steven Roth, Jillian Ryan, Caroline Zimmerman
The State Seal of Biliteracy:
Encourages students to become communicatively proficient in multiple languages;

Encourages students to acquire 21st century skills which will increase global competence and be beneficial in the global labor market;

Recognizes equally the knowledge of both English speakers learning a world language and English Language Learners studying English and other world languages;

Recognizes and rewards students' linguistic and cultural knowledge;

Certifies attainment of biliteracy skills using nationally recognized assessment frameworks valid in New Jersey and beyond;

Provides employers with a way of identifying New Jersey high school graduates with biliteracy skills;

Assists universities in recognizing applicants with language skills and granting credit;

Strengthens intergroup relationships and honors the multiple cultures and languages in our diverse state.