Return to Headlines
WTHS Students in Action Ready Students for Prom and Semi-Formal Season with Free Dress Swap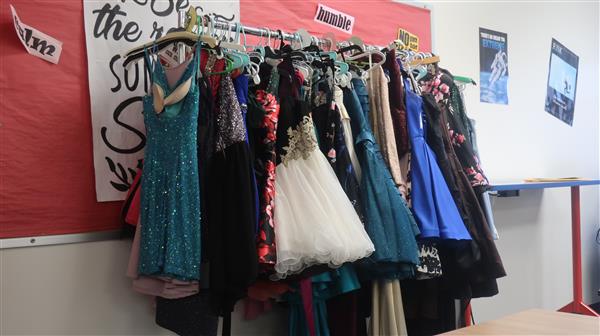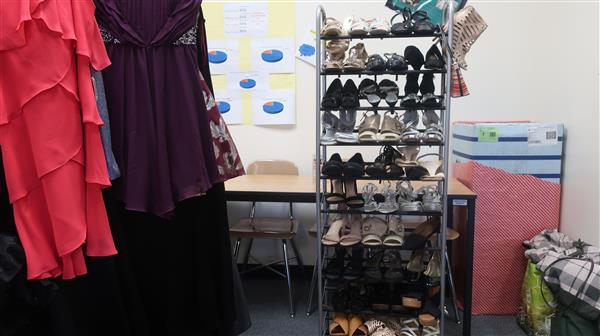 Many of the glamorous gowns and dresses on display in a Washington Township High School classroom on January 27th still had the price tags on them. Students throughout the school were invited by members of Students in Action Club to browse the racks and choose from a variety of styles and colors in advance of the spring formal and prom season as part of the "Dress Swap" hosted by the group. A similar event was hosted in the fall before Homecoming.
Students were able to select from more nearly 100 new or gently worn, donated dresses and gowns, giving them an opportunity to outfit themselves, at no cost. They also had access to shoes, jewelry, and accessories.
The project, under the direction of Student in Action Club co-advisors Eisa Jackson and Lindsay Radziak, was spearheaded by juniors Leighanna Schweikert and Keira Blaney. The room is staged for discretion and privacy, displaying the donations on several large racks and in bins, and even offers a dressing room and large mirror.
"Our students were able to donate a dress after any of the special events that took place so far this year or in previous years," Radziak said. "We have some shoes that also were donated. We are good on dresses right now, but it would be wonderful if people have gentlemen's dress attire, or even interview attire - ties or bow ties, vests, suits, or shoes to donate. They can reach out to anyone in Students in Action, or myself or Miss Jackson.
"The event is really going well, and we are really excited about it," she said. "We are considering a lot of other avenues, moving forward, with other dances, like the Military Ball, and possibly pulling in the middle schools too. Giving these dresses and accessories a second life is really nice for the students. They are getting to see how they can share out something they have worn once, with love, to somebody else who may be in need."
The Dress Swap will be available to students on January 31st, February 9th and 10th during unit lunch and on February 9 from 6-8 p.m. in the WTHS IMC. More information is available on Instagram @twpdressswap or via email to Lindsay Radziak (lradziak@wtps.org) or Eisa Jackson (ejackson@wtps.org).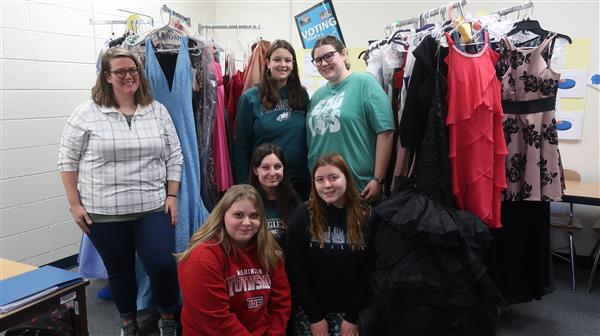 Students in Action Club Co-Advisor Lindsay Radziak and (kneeling left to right) Kaitlyn Grabow, Georgia Storm, Madeline Gleason, (standing left to right) Keira Blaney and Leighanna Schweikert pose in front of some of the racks of donated gowns and dresses available at the WTHS Dress Swap.
Junior Keira Blamey found a gorgeous gown among the donations.