Return to Headlines
Wedgwood Elementary School Fourth-Grader Brady Piperata Claims School's 24 Game Championship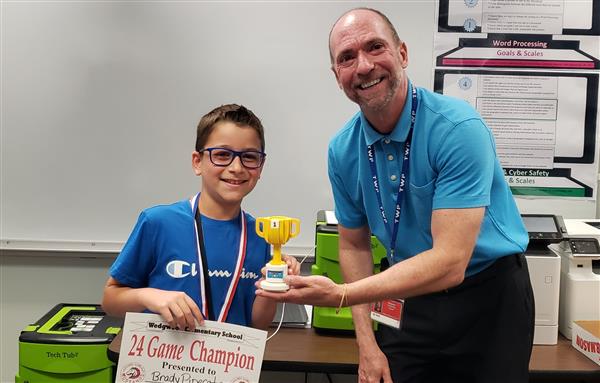 Wedgwood fourth-grader Brady Piperata receives the LEGO Trophy from math teacher Domenick Renzi for winning the 10th annual Wedgwood 24 Game Championship Tournament.
WASHINGTON TOWNSHIP – Fourth-grader Brady Piperata outlasted 17 fellow fourth- and fifth-graders to become champion in the 10th annual iteration of the Wedgwood Elementary School 24 Game Championship Tournament on Monday, June 5, 2023.
In the finals, it came down to very last card – a three-pointer. Piperata won that card, vaulting past second-place finisher Nathan Torres (grade 5) to win by two. Fifth-grader Colin Flannery took third place, and fifth-grader Dylan Kane finished fourth.
As the champion, Piperata won a 24 Game gold medal, the coveted 24 Game Lego Trophy, which was created and built by Wedgwood math teacher Domenick Renzi, and tickets to Brickfest, a LEGO-themed convention held in Pennsylvania in October. Torres received a silver medal for second place, as well as tickets to Brickfest. Renzi was the host of Monday's competition. Each of 18 classroom representatives received certificates for their math excellence.
The 24 Game is a card game in which the object is to manipulate four integers so that the end result is 24. Addition, subtraction, multiplication and/or division may be used to make the four digits equal 24. Wedgwood fourth- and fifth-graders have been practicing the 24 Game for several months. Each classroom recently held its own competition, with the top two finishers from each room advancing to Monday's championship tournament. The semifinals, featuring 18 Wedgwood students, were held earlier in the day.
Classroom representatives from each of the fourth- and fifth-grade homerooms included: Hannah Chen and Dylan Kane (Mrs. Haines); Jackson Thomas-Reed and Grace Burke (Mrs. Mills); Brady Piperata and Gavin Sauers (Mrs. Ritchie); Carina Azzarano and Janice Chen (Mrs. Tierce); Colin Flannery and Jude McGlinchey (Mrs. Bonfiglio); Hunter King and Ty'on Newby-Mack (Mrs. Evans); Jeremiah Sills and Nathaniel Torres (Mrs. McGough); Carlotta Costello and Lacy Epstein (Mrs. Paul); Harper Boyce and Brantley Skokowski (Ms. Wills).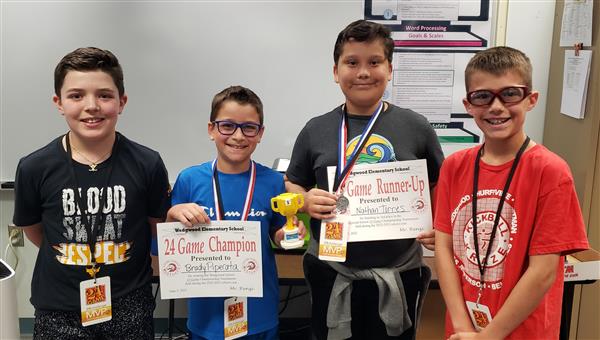 Wedgwood students (l to r) Dylan Kane, Brady Piperata, Nathan Torres, and Colin Flannery celebrate their success in making it to the 24 Game Championship round.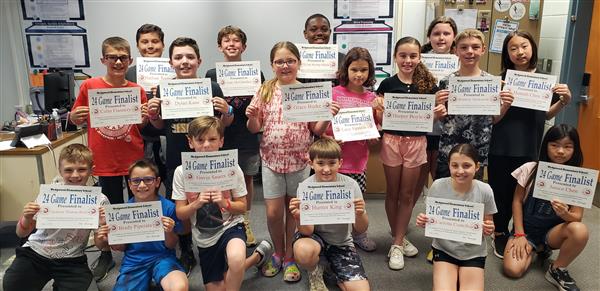 The 18 finalists in Wedgwood's 24 Game tournament pose for a group photo with their certificates. Missing from photo: Jeremiah Sills.


- WTPS –