Return to Headlines
Science Professionals Visit Washington Township High School as Part of Science League Career Symposium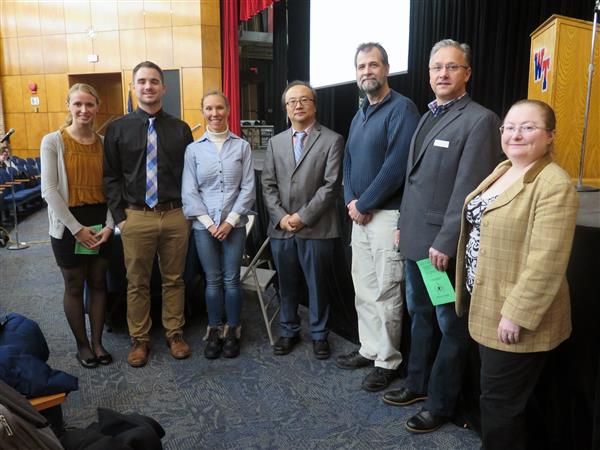 WASHINGTON TOWNSHIP – The Washington Township High School Science League hosted its annual Science Careers Symposium on Friday December 15, 2017, in the school's 11/12 auditorium. Six professionals with ties to the South Jersey or Washington Township community shared their educational and work experiences with students from several WTHS science classes.
The speakers included:
- Jennifer Mitchell – The Buena, N.J., native is the Director of Research and Development for FocalCool, a medical device research company. Mitchell's work has focused on using thermal-fluid sciences to enhance medical device capabilities, including the development of a temperature control technology capable of providing rapid localized cooling to specific organs within the body. Mitchell mentors undergraduates at Rowan through internship and semester projects (FocalCool is housed at the South Jersey Technology Park, which is part of Rowan's expanding campus).
- Dr. Dave Klassen – A planetary astronomer and professor of physics and astronomy at Rowan University, Dr. Klassen is a native of Minnesota who has called Rowan and South Jersey home for 20 years. His astronomy research has focused on studying Mars in the near-infrared to better understand the water abundance in Martian clouds. Dr. Klassen has included more than 30 undergraduate students in his research program during his time at Rowan.
- Connor Hornibrook – The 2012 Washington Township High School graduate – and son of Science League co-advisor Shannon Hornibrook – is an information systems development and maintenance analyst at Rowan University. Hornibrook has a background in geographic information systems (GIS), and he was a GIS specialist for the City of Philadelphia, developing apps for the police department and water department. In addition to his programming work at Rowan, he maintains a few open-source software projects on his own time, and credits teaching himself and always looking to learn new things for making him a more versatile programmer.
- Victoria O'Brien – The senior engineer of new product development for Terumo Medical Corporation, O'Brien has more than 20 years of experience developing patented products in medical devices, pharmaceutical packaging and consumer products. At Terumo, O'Brien designs and develops medical devices that create, hold open and close a small hole in the wrist or leg for diagnostic and interventional endovascular procedures such as opening blocked arteries, sealing off aneurysms and replacing heart valves.
- Mike Garwood – An engineering leader experienced in creating information protection products and solutions, Garwood has been engaged in the design, development, manufacture and integration of advanced Department of Defense (DoD) communication systems and products. He has 11 years of experience in designing DoD equipment for land, sea, airborne and space applications.
- Dr. Seung-yun Kim – An assistant professor of electrical and computer engineering, and a first-year program coordinator at the School of Engineering at the College of New Jersey, Dr. Kim focuses his research on collaborative computing, human-centered systems, mobile and ubiquitous computing, and intelligent robotics. Dr. Kim has been awarded more than $450,000 in grants over his career, and he has published more than 30 journal entries while serving as a reviewer for the National Science Foundation and several technical journals.
The professionals prepared Power Point Presentations, brought in examples of their work, and even took questions from the students. Science teachers Shannon Hornibrook and Mary Howard facilitated the event, which is sponsored by the Science League. The emcee and symposium chair for the program was senior Grace Robertson.
- WTPS -