Return to Headlines
Wedgwood Art Students Receive Animation Lesson from Former Student Nick LeDonne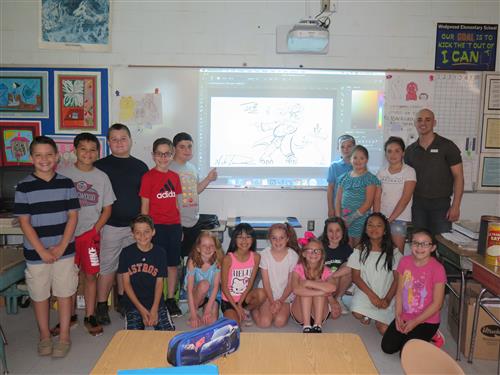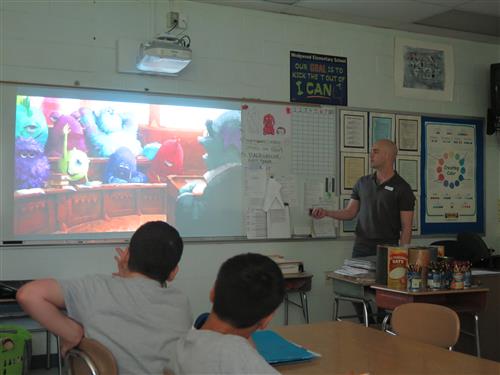 The thing that was often a distraction for his teachers while he was a student at Wedgwood Elementary School is now what most defines 2012 Washington Township High School graduate Nick LeDonne.
"Nick was always drawing and animating comics when he was in elementary school," said Wedgwood art teacher Rich Wolf, while introducing his former student LeDonne to his current fourth-grade art students. "Now he makes a living teaching animation and creating animations of his own. He has been open to sharing his love and expertise in all aspects of animation and his art with my students. We feel privileged and fortunate to learn from him."
During a multi-day visit to the school June 6-8, LeDonne, a 2017 graduate of the University of the Arts and currently a professor of animation at both Rutgers-Camden and the Pennsylvania College of Art & Design in Lancaster, Pa., spent time showing the students examples of Pixar and Disney animations before guiding them through the animation process.
"All animation begins by sketching on paper," LeDonne told the class. "It all starts with drawing by hand, so I encourage all of you artists to use pencil and paper to test out your ideas. Be creative and draw as much as you can. Look at the shapes of trees and clouds and scribble shapes to create characters. The weirder you get, the better the idea."
After sharing Pixar's 2008 animated short film "Presto," LeDonne walked the students through the animation process from sketching to digital sculpting using computer programs "Maya" and "Zebra."
As a culminating activity, he worked collaboratively with the students to create a character that he crafted freehand in Photoshop. The result was "Jeff," a writer who was part elephant, wolf and monkey, who sported glasses and a mustache, wore a bathrobe complete with ducks and a princess tiara. He held a banana pen in his hand and had a pet mouse resting on his arm.
Each class that LeDonne directed created a different character. He printed out a sketch for each student as a souvenir to take home and color.
LeDonne, the owner of 12 international animation awards, produced a short film on depression called "Hanging," which screened internationally in 28 countries. His upcoming short film, "Dear Dad," is a heartfelt letter to his late father. Learn more at www.nickledonne.com. In 2012, he sketched and painted an elaborate Disney-themed mural in the children's corner of the Washington Township High School instructional media center as his parting gift to the school.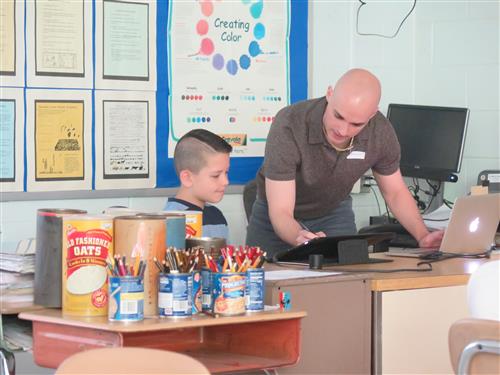 Wedgwood fourth-grader Tommy DelBorrello gets a hands-on animation lesson from visiting animator Nick LeDonne.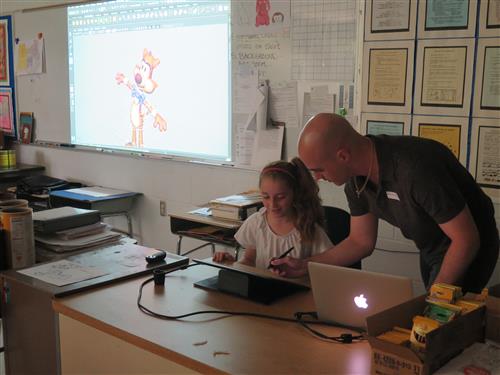 Wedgwood fourth-grader Alyssa Clark learned how to give movement to a character.