Return to Headlines
Washington Township High School Rising Senior Colin Ly Earns Seventh-Place in Personal Finance at FBLA National Conference
WASHINGTON TOWNSHIP – Thousands of America's best and brightest high school students traveled to Texas to compete for the opportunity to win more than $175,000 in cash awards at the Future Business Leaders of America (FBLA) National Leadership Conference. The conference was held June 24-July 2 in San Antonio. Participants from across the United States and abroad attended to enhance their business skills, expand their networks, and participate in more than 70 business and business-related competitive events.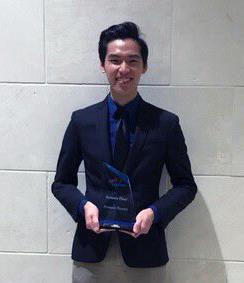 Washington Township High School rising senior Colin Ly received national recognition at the FBLA Awards of Excellence Program on July 2. Ly, who traveled to San Antonio with his family, competed in Personal Finance and brought home seventh place in the nation. Competitors in Personal Finance took a 100-question, 60-minute personal finance literacy exam at the national conference, with competencies including: Financial Principles Related to Personal Decision Making; Managing Budgets and Finance (Planning and Money Management); Earning a Living (Income, Taxes); Buying Goods and Services; Saving and Investing; Banking and Insurance; Credit and Debt. The event recognizes students who possess essential knowledge and skills related to financial issues, can analyze the rights and responsibilities of consumers, and apply knowledge to financial situations. Ly took first place overall in the competition at the New Jersey State FBLA Conference in the spring.
"Colin has never ceased to amaze me," WTHS FBLA advisor Sara Simpson said. "He deserves every win he gets because he puts 120 percent into all his endeavors. He seeks out knowledge and strives for perfection. He is our new FBLA Vice President of Education for the 2019-20 school year, and he will captain our three-time reigning champion Gloucester County Consumer Bowl team. He is a vital part of our FBLA family."
The award was part of a comprehensive national competitive events program sponsored by FBLA-PBL that recognizes and rewards excellence in a broad range of business and career-related areas. For many students, the competitive events are the capstone activity of their academic careers. In addition to competitions, students immersed themselves in interactive workshops, visited an information-packed exhibit hall, and heard from motivational speakers on a broad range of topics.
Future Business Leaders of America-Phi Beta Lambda, Inc., the premier student business organization, is a nonprofit 501(c)(3) education association with a quarter million members and advisers in more than 6,500 active middle school, high school, and college chapters worldwide. FBLA-PBL's mission is to inspire and prepare students to become community-minded business leaders in a global society through relevant career preparation and leadership experiences.
- WTPS -