Return to Headlines
Superintendent Hands Out Hardware to District's Newest NJ Future Ready Silver Tier Certified Schools
Click here to see a photo gallery of the banners.
Washington Township Superintendent of Schools Joe Bollendorf proudly took time from his monthly administrative council meeting to distribute banners to the respective leaders of the District's newest New Jersey Future Ready Silver Tier Certified Schools.
Principals at Grenloch Terrace Early Childhood Center, Bells Elementary, Birches Elementary, Hurffville Elementary, Thomas Jefferson Elementary, Wedgwood Elementary, Bunker Hill Middle School, Chestnut Ridge Middle School and Orchard Valley Middle School all received individual banners from the state documenting their achievement of the highest level to date in the Future Ready certification process. Washington Township High School had obtained silver status last year. Whitman Elementary School's certification is forthcoming and will signify that all 11 District schools have met the state benchmark.
"I commend all of you for working collaboratively and for devoting a lot of time and effort to the certification process," Bollendorf said. "These recognitions reflect our District's commitment to transforming instructional practices, leveraging technology and personalizing learning to mirror the digital world that our students are immersed in. These certifications validate our 1:1 initiative and all the other planning we have worked to implement that makes our District a leader in South Jersey and the state. It was a total team effort and a valuable process that reflects well on each individual school, as well as on our efforts for consistency, equity and advancement as a district."
Future Ready Schools - New Jersey, a coalition of New Jersey Institute of Technology (NJIT), the New Jersey School Boards Association (NJSBA), and the New Jersey Department of Education (NJDOE), is a certification program designed to support the organization of schools' and districts' efforts through the national Future Ready Framework. The initiative assists teachers in changing their instructional and educational practices, while preparing their students for success in the digital age. The certification program was created to support schools with resources needed to implement digital learning and to promote the skills, abilities and capacities essential for student success in college, career and citizenship.
For more information on the New Jersey Future Ready Schools certification process, please visit http://www.frsnj.org/.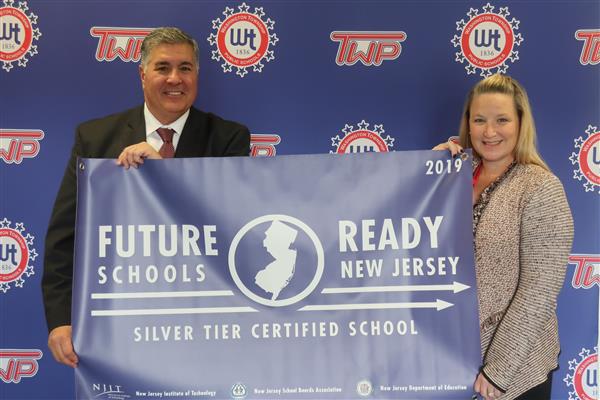 Washington Township Superintendent of Schools Joe Bollendorf presented Orchard Valley Middle School Principal Colleen Cancila with a banner signifying the school's Silver Tier status in the New Jersey Future Ready Schools certification process.