Return to Headlines
Hurffville Elementary School Principal Jeff Pollock Retires with Friends Beyond Measure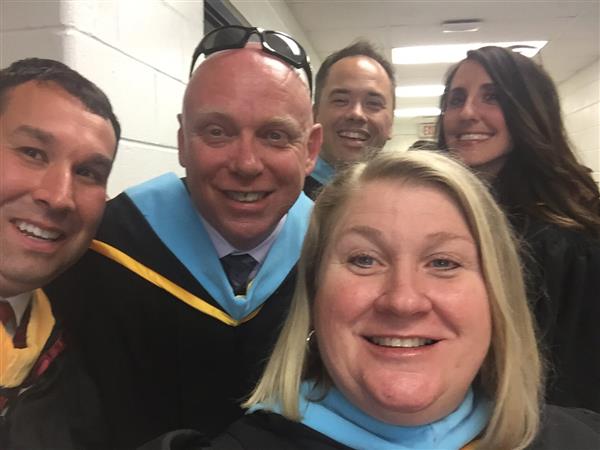 Three small words that became his mighty mantra over decades in school leadership have multiplied exponentially into friends beyond measure for retiring Hurffville Elementary School principal Jeff Pollock.
Be. A. Friend.
Pollock departs on July 31, 2020, after 38 years in education. For 31 years as an administrator - including 20 as a principal in Washington Township (12 years at Thomas Jefferson Elementary and eight at Hurffville) - Pollock has coaxed and cajoled children - well, if we are being honest - mandated that kids and adults under his purview "Be A Friend."
"As part of a principals' conference that I attended very early in my administrative career in San Francisco, we were invited to tour schools," Pollock recalled. "I always made an effort, when I was at such events, to go see other buildings. I remember clearly walking into a building and on the wall was posted 'Be a Friend.' I thought, 'Wow! That's powerful!' If every child could just take a moment and look at someone else and say, 'I can treat them as a friend.' That doesn't mean they have to be their best friend. Not everyone gets along to be a best friend, but just to treat someone as a friend because you never know where somebody comes from or what kind of struggles they are having. So, I took that, and I ran with it. I always made it our number one rule - bus rule, cafeteria rule, playground rule, school rule. 'Be a Friend.' It's a mantra that I have put into kids' heads since I walked into this District."
Pollock may have borrowed the mantra, but the sentiment behind it always has been part of his DNA. Perhaps because he started school so young – at only four-and-a-half in kindergarten – struggled in reading and truly was challenged as a young learner, Pollock knew by middle school that he wanted to be a teacher.
"I went into elementary education because I enjoyed learning how to read," he said. "I struggled as a reader and really, really struggled in elementary school. I wanted to make sure I could help other kids not struggle, and I've tried to do that. I've always looked out for the underdogs. I've always tried to challenge the gifted kid, but my heart was always with the underdog and helping them along.
"My goal has always been that children would leave my building prepared for that middle level," he said, "that they have goals in mind, and they have dreams. I wanted to make sure I made the right decisions that would guide them and guide the staff to do what they needed to do in the classroom. I always wanted my buildings to be welcoming places, happy places. Places where kids are polite and are smiling and laughing. I never wanted a child to leave school with a sad face. I tried my best, every day, to be out at the buses and to make sure that every child who was leaving here was laughing and giggling and smiling. Even before this pandemic, there are too many issues in the world that can affect kids. I wanted them to be able to say they had a good day."
Most of Jeff Pollock's days have been good ones because of this mindset and his style, not as a top-down leader but as a facilitator and collaborator who didn't shy away from difficult decisions and who made them always with the best interest for children's safety and well-being at heart. That was true from his start as a fourth-grade teacher at the John Glenn School in Pine Hill, N.J. to his time an assistant principal of 400 students at the Hess Educational Complex in Mays Landing. N.J, where he helped open a new facility, complete with an Olympic-sized swimming pool, two cafeterias and a 900-seat auditorium. That New Jersey Star School and nationally recognized Blue-Ribbon School of Excellence grew from a total 1,300 students to 1,800 students seven years later when Pollock became the acting principal.
From there, Pollock moved to be closer to his family, including his then two-year-old son, to take his first principal's job as the head of a pre-kindergarten through sixth-grade building, James A. Garfield School, in Collingswood, N.J., where he also oversaw federal programs. When one principal left, Pollock took on leadership of an additional building, Zane North School, for a short time, while also overseeing elementary curriculum and serving as the testing coordinator.
Pollock admittedly wasn't looking to leave Collingswood. But when searching for his son's snack menu at Grenloch Terrace Early Childhood Center, he came across a posting for a principal's position in Washington Township, a place he had called home since he was 15 years old. He applied and was appointed to the post in August of 2000.
"My son was going into first grade at Bells Elementary when I started at TJ," Pollock said, "and the week after he graduated from WTHS, the superintendent asked me to move to Hurffville. The different positions I have had throughout my career have given me insights into different ways of doing things. I always think back, 'What would this mentor of mine have done?' One mentor who I looked to in my head a lot was Sharon Rearden, my mentor at the Hess School in Mays Landing. I think back to Jim Bathurst, the superintendent in Collingswood, and back to the superintendents and principals when I taught. What would they have done? What would Charles Ivory, superintendent in Pine Hill, have done? I still look to them today, and I am still in contact with many of them. I still call on them, and they call on me."
And so Jeff Pollock has come full circle, a circle that has swelled with so many friends – colleagues and co-workers, administrators and teachers (many of whom he hired and started on their own educational journeys), and mostly students – present and past – a circle from whom he learned so much and an even larger circle who have gained from knowing him.
"It's really hard for me right now (because schools are closed) I don't get to say goodbye to the teachers and the kids," Pollock said. "I don't get to see their faces. The kids of Washington Township have really grabbed my heart. But I think I am leaving at the top of my game. I've done my best, and I hope that I've left an impact on kids and on the District.
"I've worked with some really good people in Washington Township - Tom Flemming, Joe Vandenberg, Bobbi Marciano, Peg Meehan, Gretchen Gerber, Annette Miller, Cheryl Simone, Bob Goldschmidt, Joe Bollendorf come to mind. I think so fondly of these people, and I'm hoping they will think that way of me. They've all played an important part in my life and in my career, and I appreciate all they have done for me. I've shared a lot with the elementary principals, and I'm going to miss them. I want to thank the people of Washington Township for allowing me to be a principal. It's been an honor. It's time for me to let go and enjoy my family and enjoy the life I have. I don't have any regrets."
He does, however, have one wish for the future.
"I hope that three to four years from now, people, when they are making a decision, will think 'What would Jeff have done? 'How would Jeff have handled this?'
The answer, first and foremost, to any such question?
Jeff Pollock would have said, "Be. A. Friend."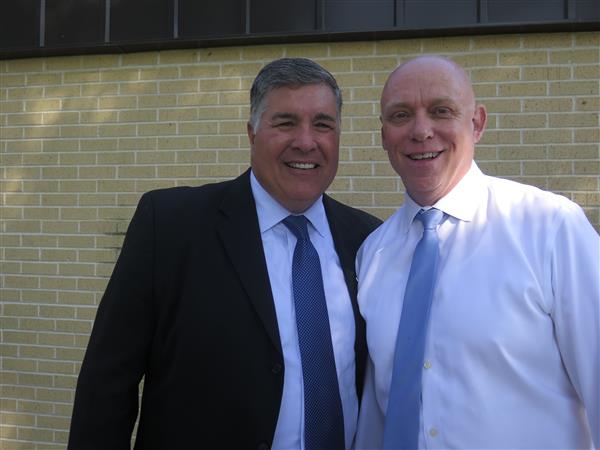 Click here to view a WT-TV Feature on Retiring Principal Jeff Pollock: