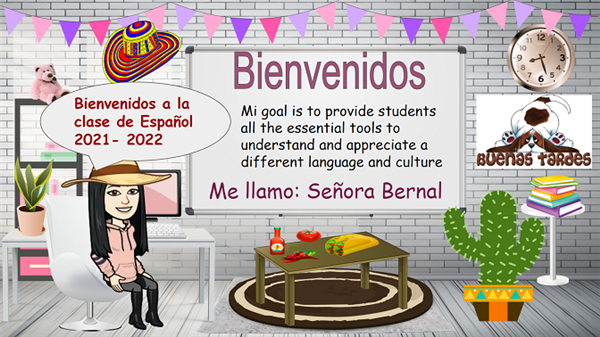 Phone:
Email:
Degrees and Certifications:
I have NJ and PA Certification in Spanish k-12.
Mrs.

Gloria Patricia Bernal

Bienvenidos a la clase de Español 2022- 2023!!

Welcome Back to Spanish and World Language Class !!

Let the School Year begin

!!I

A little about me

iHola a todos! My name is Gloria Patricia Bernal. I was born and raised in Colombia. I have a Bachelor's degree in Journalism from Colombia. Also, I have a Degree in Education with a concentration on World Languages from Rowan University.

I am so excited to be your Spanish teacher, and this is my fourth year at Washigtown Township School District. I teach Spanish from Kindergarten to Fifth Grade at Wedgwood, Hurffville, and Birches Elementary Schools, as well as introducing German and French in 5th grade.

Prior to teaching at Washigtown Township School District, I taught in Philadelphia at Pennsbury High School. I love being a Spanish Teacher!

I am happy about all of the fun and exciting things we are going to learn. My goal is to provide students with all the essential tools to understand and appreciate different languages and cultures.

"One language sets you in a corridor for life. Two languages open every door along the way"

-Frank Smith-

Hola!! Hallo !! Salut!!