Return to Headlines
Wedgwood ELEMEnTS Students Win $1,000 in 2019 Fluor Engineering Challenge
Diana Jablonowski's fifth-grade ELEMEnTS students at Wedgwood Elementary School, aka "Team Fluff," find themselves among elite engineers as one of 20 $1,000 winners in the 2019 Fluor Engineering Challenge and one of only a dozen winners in the United States. The winning team of Ayana Tillman, Suzanne Malec and Molly Rainey was among more than 1,400 submissions from around the globe who worked with limited materials and their imaginations to design a volley ball machine using only cups, take wooden pencils, craft sticks and paper.
"Ayana, Suzanne and Molly brainstormed, collaborated, sketched, built and then tested their machine together as a team," Jablonowski said. "We are very proud of them!"
The Fluor Engineering Challenge was created to help educators meet the latest standards for science and engineering literacy. This year's Fluor Engineering Challenge was originally developed by engineers from Fluor's Southern California office as part of the global company's annual employee competition held in celebration of Engineers Week. With the help of an expert team of scientists and educators from Science Buddies, this employee competition was adapted to provide students the opportunity to experience how real-life engineers design solutions, and to show students first-hand how fun engineering can be.
"The annual Fluor Engineering Challenge, designed by and for employees, has been an important part of Fluor's 50-year tradition of celebrating Engineers Week," said Torrence Robinson, Senior Director of Global Community Affairs at Fluor Corporation. "Thanks to our innovative partnership with Science Buddies, we're pleased to be able to share this fun and engaging resource with students across the globe to provide a glimpse into this rewarding and thought-provoking profession."
Fluor Corporation (NYSE: FLR) is a global engineering, procurement, fabrication, construction and maintenance company that designs, builds and maintains capital-efficient facilities for its clients on six continents. Fluor invests in programs that inspire and prepare students to excel in science, technology, engineering and math (STEM) subjects and disciplines and is committed to the development of our next generation workforce. Since 2013, more than 900,000 students have received STEM training and enrichment made possible through Fluor's financial and employee volunteer support of community organizations.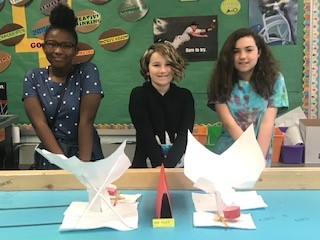 (Left to right): Ayana Tillman, Suzanne Malec and Molly Rainey pose with their winning design, which earned $1,000 for their school.