Return to Headlines
Jefferson Health Gifts Electric Guitar Package to Washington Township, Other South Jersey Districts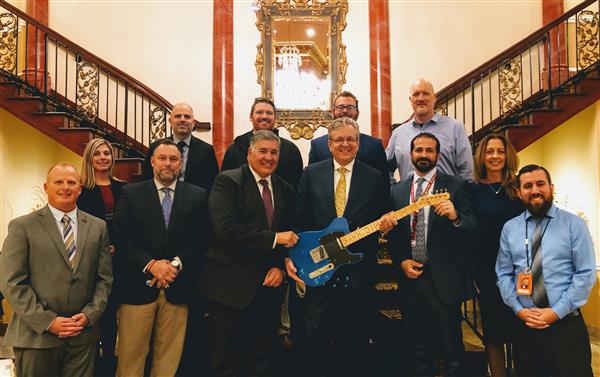 WASHINGTON TOWNSHIP – Washington Township Superintendent of Schools Joe Bollendorf was among leaders from several South Jersey school districts invited to Lucien's Manor in West Berlin on Wednesday, November 20th, where Jefferson Health donated 24 new electric guitar packages to the respective schools' music programs.
The guitars were built as part of a team-building exercise among more than 250 Jefferson Health New Jersey managers. In the past, Jefferson managers from their Cherry Hill, Stratford and Washington Township campuses have fabricated wheelchairs to donate to Camden and Gloucester County veterans' offices, and donated food to the Food Bank of South Jersey. The donations support Jefferson's organization-wide mission to improve lives, including those beyond the walls of its hospitals and medical practices.
Each guitar package included two guitars, a mini-amplifier, cords and cables, and a case.
In the above photo, Jefferson Health New Jersey President Joseph W. Devine (center, with guitar) joins school district representatives who received Jefferson Health guitar packages. Pictured include (left to right): Bottom row – John Stanz, Music Teacher, Eastern Camden County Regional School District; David Gentile, Superintendent, Voorhees Township Public School District; Joe Bollendorf, Superintendent, Washington Township Public School District; Steve Picot, Vice Principal of Student Athletics and Activities, Eastern Camden County Regional School District; Michelle Smith, Vice Principal, John A. Carusi Middle School (Cherry Hill); and John Hunt, Music Teacher, John A. Carusi Middle School; Top row – Jennifer Brown, Music Teacher, Black Horse Pike Regional School District; John Botbyl, Music Teacher, Pitman Middle School; Walt Young, Music Teacher, Sterling High School; Gunner Loper, Music Teacher, Magnolia Public School District; and Michael Pollock, Music Teacher, Lindenwold High School.
- WTPS -