Return to Headlines
WTHS Welcomes Marty Tremain as Guest Speaker at Annual DECA Induction Ceremony  
As keynote speaker of Washington Township High School's DECA induction ceremony on December 1, 2021, Ms. Marty Tremain, senior director of training and field operations for Shift Digital in the automotive industry in Detroit, encouraged her audience of business-minded students to be mindful of their blessings…and their social media posts.
"In my role, I hire hundreds of people a year, and my decisions about when to pass on an otherwise good candidate comes down to offensive stuff and emotional rants that they have posted on Twitter," Tremain said. "Future employers are looking at the things you are posting on social media. Be mindful of this."
Tremain also reminded the students that living their best lives requires them to be their authentic selves and to find career paths where they feel connected.
"You don't want to just punch a clock," she said. "Begin by being grateful for the small things in your life, for this opportunity that you have through DECA. Be grateful for a good boss and a good mentor and measure your success minute-by-minute. Little, tiny wins build up. If you can appreciate what you have today, you are going to have so much more of that tomorrow. You will be able to attract abundance."
Following Tremain's presentation, WTHS business education teacher and DECA advisor Alexandria Ackley and her DECA leaders led the induction ceremony and welcomed 95 new members.
WTHS DECA membership includes:
Grade 9:
Jake Borkowski*, Hunter Bostwick*, Austin Burgher*, Robert Canino*, Andrew D'Ostilio*, Nicholas Decosta*, Jake Devereaux*, Antonio Gatta*, Madison Lex*, Aleah Liberati*, Mengru Lin*, Sebastian Major*, Reagan McCormack*, Ryan McCrea*, Jason Monti*, Olivia Oberle*, David Ochoa*, Gianna Shippy*, Jocelyn Trost*, Joeylyn Velez*, Isabella Wilson*
Grade 10
Kerryn Anderson*, Sophia Angelini*, Christina Baldosaro*, Keira Blaney, Samantha Bonilla*, Kameron Borger*, Joseph Carpenter, Dominic Carrero*, Brayden Chew, Lily Cima, Justin Dewey*, Gianni Dinardo*, Nico Dubb*, Grady Fraser*, Madeline Gleason*, Victoriana Hartley, Alyssa Hengy*, Nick Majuri*, Jessica Martino*, Antonio Mazzitelli, Jack Miller*, Gabriel Mosco, Ava Muller*, Arianna Nelli, Sydney O'Shaughnessy*, Chelsea Petro*, McKenna Quinn, Jose Rivera*, Alynn Shockely*, Libertad Solis*, Georgia Storm*, Anna Tobler*, Marisa Velazquez*, Jasmine Verica*, Cole Watson*, Talia Watson*, Brett Williams, Micaela Zerilli*
Grade 11
Dante Aita*, Zayna Ali*, Joshua Baggett*, Sophia Binder*, Michael Brady*, Morgan Brewster, Jimmy Brigandi, Logan Brown*, Michael Bruno*, Tyler Carneglia*, Jessica Castorina*, Ava Cianciotti, Christopher Clune, Michael Coppola, Chris Costello, Ryan Crowley, Kyle Crozier*, Steven DeVito*, Sophia Díaz, Matthew DiGiacomo*, Max DiRaddo, Santino DiRenzo, Gianna Doto, Grant Ensign, Alyssa Gallelli*, James Henhaffer, Adrian Ilagan, Gabe Izzi*, Kathryn Kim*, Michael Klancic*, Burhan Kumas*, Evan LeComte, Anna Lee, Jasmine Lew, Tyler Lucia, Jackson McCrae, Justin Mckillop, Colin McLaughlin, Lily Molnar, Tangim Morshed, Anna Muhihu, Joshua Navan, Isabella Nelli, Tzigon Nemeth, Mia Nocille, Will Obst*, Cade Padilla*, Sean Parchesky, Brian Piotrowski, Daniel Reistle*, Nicholas Repousis, Emily Ryan, Michael Schuck*, Selma Shraim*, Brian Stephens, Hailey Trost, Jessica Wei, Brandon Weiss*
Grade 12
Sean Alminde, Kelly Anderson, Michael Bahr, Spencer Barnoski, Dylan Bauer, Brandon Briggs, Christopher Briggs, Andrew Briggs, Jake Capriotti, Alexis Castorina, Kylie Chavenson, Ava Conti, Rob Crean, Ryan Culin, Domenick DeRusso, Izayah Diaz*, Alyssa DiFranceisco, Connor DiTullio, Kayla Duenas, Abby Dzierzgowski*, Charlie Ebel*, Matthew Egan, Kara Eisenschink, Andy Escobar*, Cole Fitzgerald*, Maeve Fitzgerald, Alyssa Gentile*, Olivia George, Melanie Goffredo*, Tyler Gryckiewicz, Danny Guetens, Emily Guthier, Emma Haley*, Helene Horan, Adriana Iacaruso*, Olivia Indriso, Robyn Jecrois*, Christian Jones, Madison Karasik*, Sam Kaschak, Nicholas Kelley, Meghan Kern*, Nathaniel Kidwell, Amaya Learmont, Ava Leone, Carson Locke, Tony McMurtry , Caden Morrell, Samantha Moss, Ashton Myers, Robert Nuzzo, John Palaganas, Evan Patterson*, Brooke Pollack*, Noah Pollack*, Alex Ricciardi, Ava Ricevuto, Vincent Roberts, Kaleb Russell, Maddie Sanger, Julianna Scalia, Sydney Schiavo, Anthony Sciotto, Amanda Smith, Nick Sokolov*, Steven Spino*, Thomas Tait, Ethan Tamase, Edward Tobler, Casey Torbik, Felisha Trani*, Dylan Trewin, Dante Tumolo*, Lucas Urban, Gabriella Vacca*, Sam Vitale*, Christian Wilsman*, Abigail Wilson, Ethan Wilson, Damon Wiseburn, Krista Zbikowski*
*Indicates 2021 inductee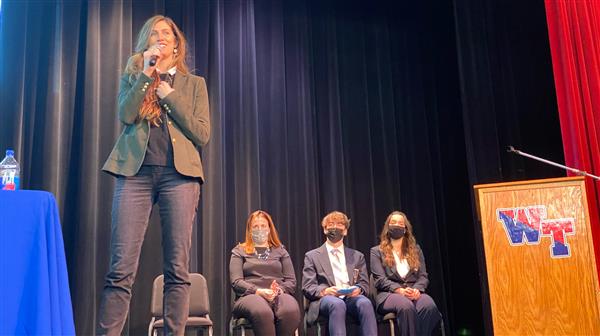 Ms. Marty Tremain, senior director of training and field operations for Shift Digital in the automotive industry in Detroit, addressed members of the Washington Township High School DECA Club prior to their annual induction ceremony on December 1st.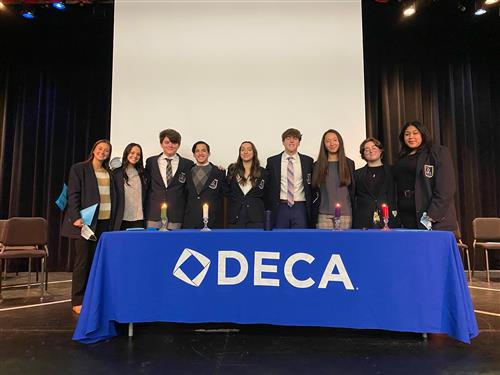 WTHS DECA Executive Officers (left to right) Sydney Schiavo, Emily Guthier, Thomas Tait, Andrew Briggs, Casey Torbik, Eddie Tobler, Grace Kim, Abby Wilson, Kira Knox-Bishop posed for a photo following the induction ceremony.