Return to Headlines
Device Strikes the Right Chord
Drexel Graduate Students Create Device to Help Birches Student with Birth Defect Fine-Tune His Violin Performance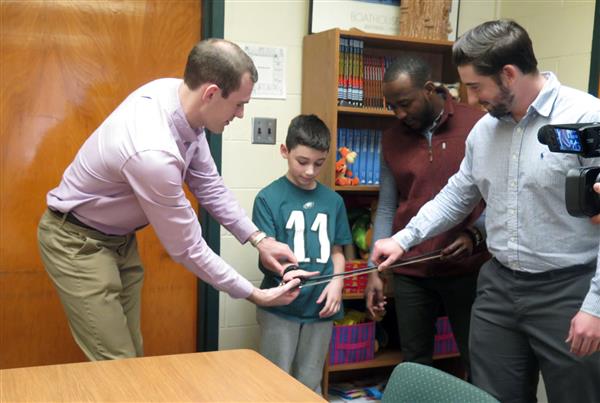 WASHINGTON TOWNSHIP – Julian Caraballo came into this world with a birth defect limiting the full use of his right hand, but he has never let that slow him down. And thanks to the efforts of his instrumental music teacher and a trio of smart, hard-working Drexel University biomedical graduate students, Julian has the tools needed to make beautiful music like his fellow fourth-graders at Birches Elementary School.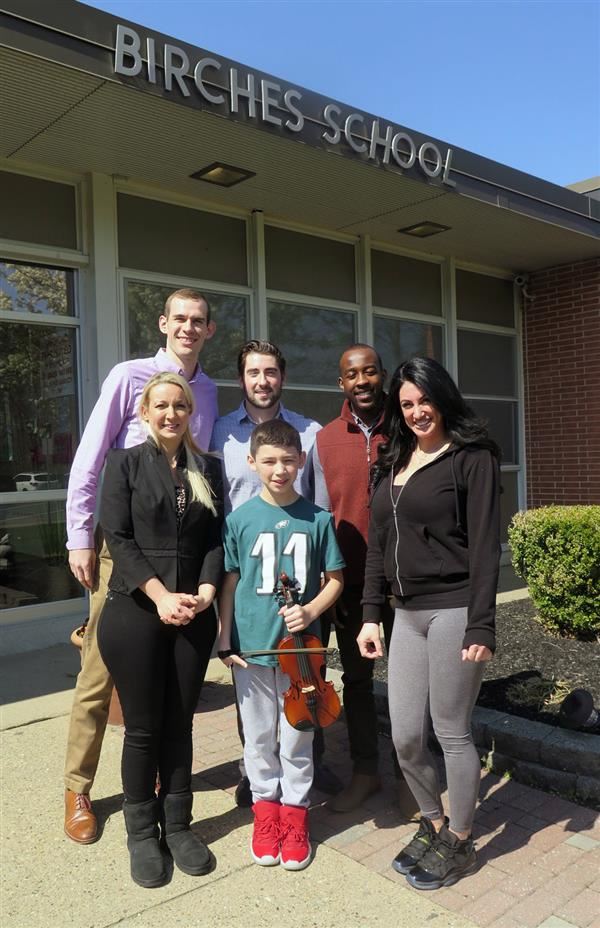 Julian wanted to be part of the school band, and wanted to play the violin. Picking the strings wasn't a problem. But once the students started using the bow, teacher Lisa Sebastiani, herself a violinist, saw that Julian might need a little extra assistance. Something that might make it easy to keep hold of the bow, play faster and cross all the strings.
"At first, he didn't want any help. He's the kind of kid who always wants to do it himself," said Sebastiani, who had been searching the Internet for musicians who have faced similar challenges. "But I told him there will be challenges you don't see as a beginner, which will materialize as he gets more advanced. I thought of using a Velcro wrap and wrapping his hand, but he really couldn't maneuver it."
So Sebastiani kept searching until she found the E-NABLE Community, a non-profit organization that builds 3-D hands and prosthetic devices for students. That's how she found the Drexel trio of Alex Hahn, Kimanthi Gicovi and Tyler Bogaczyk. The three Master of Biomedical Studies first-year students – who are trying to get their "Drexel Dragon Claws" 3-D printing club recognized on campus – hooked up with E-NABLE to acquire community service opportunities in their Community Dimensions of Medicine course. E-NABLE put the two parties together, and Project Julian began.
"The community we work with (creates) a lot of whole hands," said Hahn, noting that E-NABLE has vast amount of pre-created templates that many patients select from. "We were lucky enough to get Julian, who really challenged us, and we were able to do something on our own instead of just following a template."
Julian turned out to be a perfect subject. He answered the students' questions, gave honest feedback and showed patience. In between classes and other obligations, Hahn, Gicovi and Bogaczyk worked up a prototype. It wasn't exactly right.
"Our first goal was, 'Can we attach the bow to Julian's hand?'" Bogaczyk said. "It wasn't very comfortable. It was bulky, and we had the wrong-sized Velcro strap."
Added Gicovi: "Julian pushed us more than anything. He's somebody, for a young man, who really knew what he wanted, what his goal was, how he wanted the device to feel, what color he wanted it to be. He allowed us to not just settle into just making a device, but making one that he liked and did the things he wanted it to do."
The second customized prototype struck the right chords, both literally and figuratively.
"We couldn't believe it worked on the second try," Sebastiani said. "Julian could use the whole bow. He could play all the different strings with ease, and it was comfortable, and he wasn't going to drop the bow. He had it all ready for the spring concert, which was amazing."
A plastic pad – created on the 3-D printer to the optimal size – attaches to Julian's bow, which he then grips before wrapping and tightening a Velcro strap to hold everything in place. The pad then can be adjusted on the fly to make for easier transitions.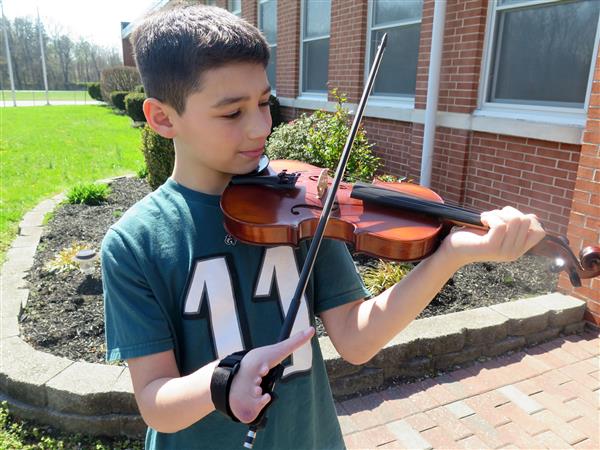 "You can move the pad around wherever you need it," Julian said. "It was good at first, but still a little bit hard (to maneuver). After a while, it got easier to use. I like it."
The Drexel students spent upwards of 50 to 60 hours working on the device, between visits to Birches, time in the lab, and plenty of research. They really got to know Julian and his family, and they made sure to be there for that spring concert.
"Nothing was better than coming to his concert and listening to the students play the violin, and not being able to tell when Julian was playing because he just played like a regular fourth-grader," Gicovi said. "Getting to come out here for an hour or two hours and spend time with a kid who doesn't see challenges where we, as adults, would perceive challenges being there really did inspire us. We would leave and be like, "Wow, how it is that he's able to not even look at the boundaries that may limit him?' He just decides he wants to play the violin. He wants to ride a dirt bike. He wants to play video games. It was inspiring."
The thanks went both ways. Julian's mother, Dana Sarubin, couldn't say enough good things about Julian's new, college-aged buddies.
"Julian loves them. They did a great thing for him," Sarubin said. "I'm happy, and my family is so happy. They want to give them all a big thank-you Italian dinner!"
And perhaps Julian can provide the musical ambiance.
- WTPS -