Return to Headlines
Thomas Jefferson Elementary School "Fifth-Grade Science Stars" Take Part in Science Fair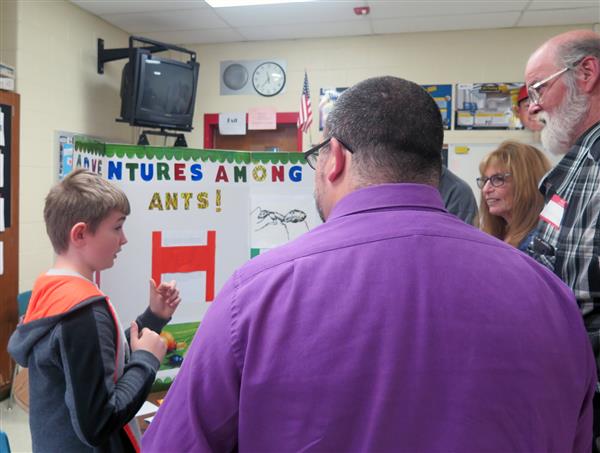 WASHINGTON TOWNSHIP – Science is alive and well at Thomas Jefferson Elementary School. Thanks to the volunteer efforts of retired teacher Anita Buff and former Board of Education member Josh Aronovitch, Thomas Jefferson hosted its annual "Fifth-Grade Science Stars" Science Fair on Wednesday, April 17, 2019.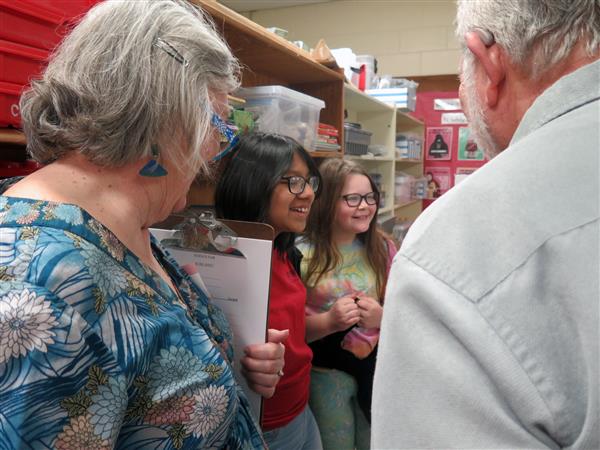 There were a few dozen exhibits in the fair, manned by pairs of or individual fifth-graders. Students could receive no help from their classroom teachers, but parents were allowed to assist at home.
The process began in February, when Buff and Aronovitch had an introductory meeting with interested students. They met individually with the pairs, and final projects had to be submitted last week. The students set up their projects in the school's hallway and in a classroom on Wednesday morning.
Buff invited several judges to score the projects. Student teams had approximately 10 minutes to explain their ideas and methods to former science teachers and science professionals, including Mary Lou Barnett, Elayne Clancy, Louis Lucente, Harold Aronovitch, Dr. Dan Mastrobuono, Jane Packard and Archie Sturgill.
Category placewinners, who received prize ribbons, included:
- Animals! And the Things that Can Kill Them: 1st – Abigail Vare and Hannah Stanley ("Ocean Pollution"); 2nd – Logan Elias ("Horseshoe Crabs"); 3rd – Madison Weikel ("Sharks").
- Generation: Builder: 1st – Sophia Meares ("Rube Goldberg"); 2nd – Kylie Smith ("Lava"); 3rd – Lily Beteta and Amaya Feliciano ("Tech Today"); Honorable Mention – Kayden Profico and Presley Terch ("Lava").
- Things in Spaaaaace!: 1st – Fawwaz Imran and Gavin Mickle ("Black Hole"); 2nd – Chase O'Brien ("Pluto"); 3rd – Aiyanna Pachero ("Solar System").
- Ants, Plants and the Ones Who Wear Pants: 1st – Lynette Stradford ("Colorful Background"); 2nd – Layla Noguera ("Balloon"); 3rd – Vanessa Trinidad and Izabella Beato ("Soap Souffle").
- We've Got Chemistry: 1st – Chris Cranston ("Anatomy of Ants"); 2nd – Ava Aita and Cailyn Birch ("Stress Levels"); 3rd – Olivia Troilo and Jared Hoffman ("Plant Growth").
For a photo gallery from the event, please click here.
– WTPS –