Return to Headlines
Wedgwood Elementary School Third-Graders Multiply Fun at Multiplication Tournament
Equipped with laptops and mad multiplication skills, close to 50 third-graders at Wedgwood Elementary filled the school's all-purpose room for a fun and friendly math competition on April 18th in the First in Math "Just the Facts for Multiplication" Third-Grade Tournament.
First in Math, an online supplemental math program, uses a gaming approach to increase math interest and improve student performance. The Tournament was organized by Wedgwood math teachers Domenick Renzi and Autumn Matera.
The game had students answering multiplication facts in five-minute sessions to see who would answer the most multiplication facts correctly in the shortest amount of time. Winning students advanced to the next round, ready to again demonstrate their fact fluency.
Third-graders Lucas McCabe, Maggie Petrelli, Noah Raberi, Alycia Dymond, Andrew Begley, Giselle Mascieri, Jake Bauer, and Luke Heim advanced to the Elite Eight.
Andrew Begley, Lucas McCabe, Luke Heim and Maggie Petrelli comprised the Final Four.
Luke Heim, from Melissa Rudolph's class, and Lucas McCabe, from MaryGrace Parchesky's class, battled in the championship round. The match-up came down to the end as Heim scored 100 correct before McCabe was able to finish to win the championship.
Tournament participants included: Aiden Blood, Madalyn Boyle, Mackenzie Danso, Maceo Devonshire, McKinley Edwards, Kaylie Garton, Natalie Grimaldi, Alexa Howley, Maliya Lightfoot, Olivia Machetti, Kali Messick, Nadia Raberi, Noah Raberi, Alexa Redman, KaiQi Yuan, Domier Abdussalaan, Andrew Begley, Alivia Dingler, Justin Karasik, Lucas McCabe, Kevin O'Donnell, Adam Borgia, Ella Goehringer, Chase Iaconelli, Kori Leacott, Ava Powers, Faith Antell, Jake Bauer, Luke Heim, Alexis Ingling, Devon Johnson-Mosley, Giselle Mascieri, Simone McGlinchey, Maggie Petrelli, Joseph Pirolli, Colin Proffitt, Katherine Ridgeway, Peyton Vena, Makenzie Bradley-Stone, Jackson Chudzinski, Alycia Dymond, Kara Epstein, Cameron Iannacone, Benjamin McCloskey, Brooklyn Piperata, Devon Stott, Luke Wheat, and Aidan Wood.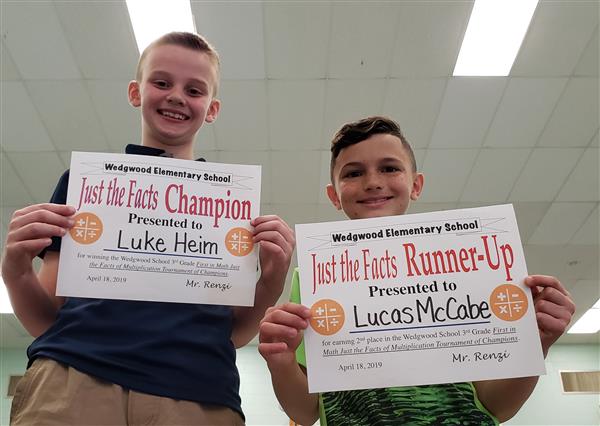 Tournament Champion Luke Heim (left) and Runner-Up Lucas McCabe pose for a picture.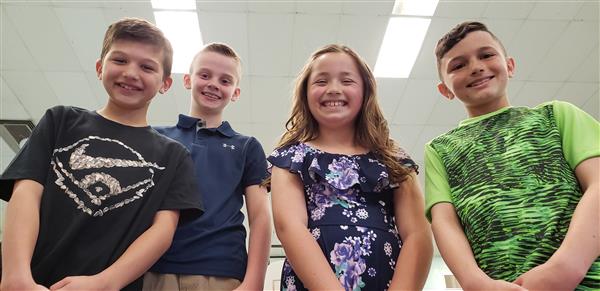 The Final Four of the Just the Facts Tournament of Champions included third- graders Andrew Begley, Luke Heim, Maggie Petrelli, and Lucas McCabe. (left to right)