Return to Headlines
All-School Pep Rally Brings Spirit Ahead of Homecoming Week at Washington Township High School

WTHS Dance team members fly through the air during a performance at the All-School Pep Rally.
WASHINGTON TOWNSHIP – Tom Brown Field was colored with pride on Friday afternoon, October 18th, as Washington Township High School held its second annual All-School Pep Rally. Under sunny skies on a brisk, beautiful fall day, more than 2,200 students and 300 staff members gathered for a throwback-style event, intended to elevate school spirit in preparation for Spirit Week (October 21-25) and Homecoming (October 26th).
Color-coordinated by grade-level, teams, including a feisty group of teachers and staff, competed in friendly competitions including a dizzy bat race, a potato sack race and a tug-of-war competition. In each event, the grade levels competed against one another, with the ultimate winners facing the staff. The juniors won the dizzy bat, but were crushed by the staff in the championship. They got their revenge, however, with an impressive effort in the potato sack race. The seniors won the tug-of-war, but they also were defeated by the faculty, allowing the juniors to earn the overall championship.
The afternoon also included the introduction of all fall sports teams, performances by the marching band, dance team and cheerleaders, and the introduction of the homecoming court and their escorts. The event, coordinated by WTHS teacher Alex Ackley, was emceed by WTHS students Cole Fitzgerald and Tom Tait, as well as teacher Ryan Francisco.
Click here for more photos from the pep rally.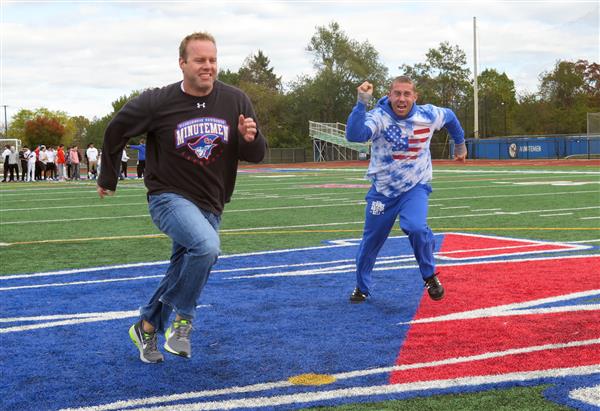 WTHS computer trainer Josh Hanlon (left) completes the faculty team's victory in the dizzy bat challenge after a final push from teacher Shaun Giberson.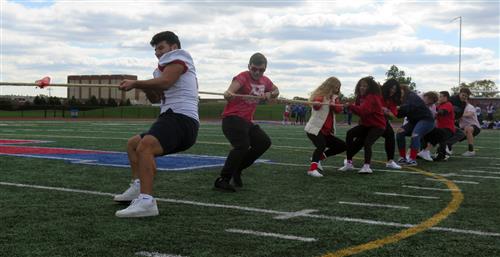 WTHS seniors pull their way to a win over the freshmen in the tug-of-war competition.
- WTPS -