Return to Headlines
Phillies Phitness Program Makes Stop at Wedgwood Elementary
Selected third, fourth and fifth graders at Wedgwood Elementary learned first-hand what it means to be "Phillies Fit" when representatives from the Philadelphia Phillies youth baseball and softball development group brought the "Phillies Phitness" program to the school on May 17th. Physical education teacher Jenna Wehrle arranged for the visit.
The "Phillies Phitness" program, presented by GIANT, is designed to educate children about steps they can take now to ensure a healthy future. Students learn the importance of being active through both exercises and activities they do every day, as well as the importance of smart food choices and good sleep.
After discussing what it means to be "Phillies Fit" – including being strong, agile, and athletic – the Phillies' reps TJ Farrell, Monica Clark and Justin Chasmar led students through a series of exercises before organizing relay races that reinforced the importance of teamwork.
"The students earned this treat today because of their sustained excellence in physical education and based on their strider heartrate monitor scores which measure the percentage of time that their heart is operating at a moderate to vigorous level in class," Wehrle said. "It was great visit, and the students seemed to really enjoy it."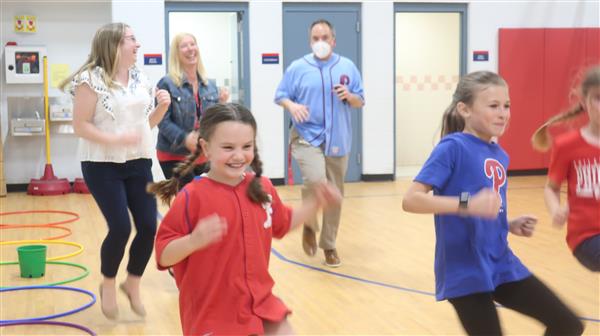 Wedgwood Elementary School intern Alyssa Friedman, school counselor Kristi White and principal Charlie Zimmerman try to keep up with students Mia DelBorrello, Erin Miller, and Avery Wilson during an afternoon workout with members of the "Phillies Phitness" program.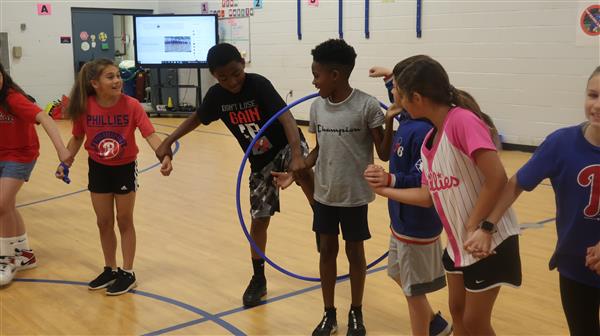 Wedgwood students teamed up for a relay race as part of the fun.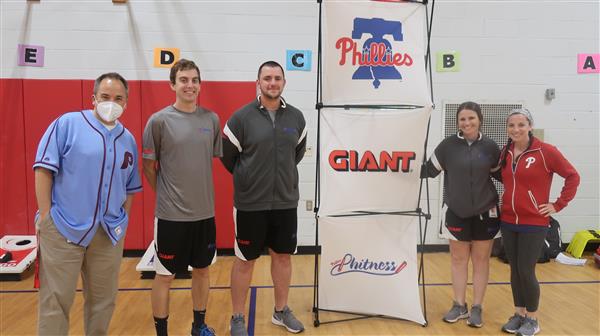 Left to right - Wedgwood Elementary School principal Charlie Zimmerman, Phillies Phitness reps TJ Farrell, Justin Chasmar and Monica Clark and Wedgwood physical educator teacher Jenna Wehrle worked alongside the students to learn the meaning of "Phillie Fit."
Click here to see a photo gallery of the fun.