Return to Headlines
WTHS Opens 2022-23 School Year with New Student Resource Officers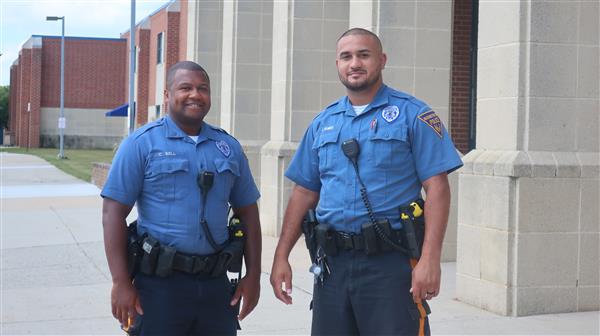 New Washington Township High School SROs Chris Bell (left) and Jose Ramos appear in front of their new post at Washington Township High School.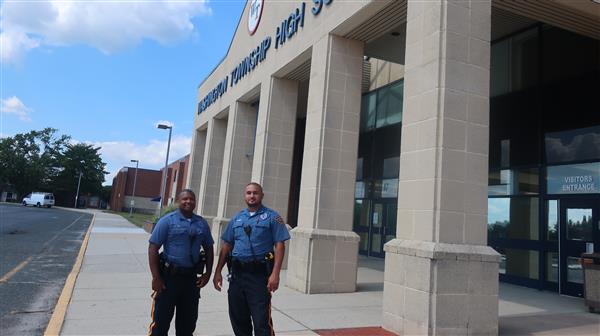 Among many new faces throughout the Washington Township Public Schools to open the 2022-23 school year, newly appointed Washington Township High School Student Resource Officers Chris Bell and Jose Ramos will be among the most visible. The two Washington Township police officers replace patrolmen Tom DiTullio and Tony Leone, who retired in June 2022 with 51 years of policing experience between them.
"School safety and security are our number one priority," Washington Township Chief of Police Pat Gurcsik said. "To ensure that our children are protected, we have increased daily patrols throughout our schools. We will continue to work with our administration and the school district administration to bolster that commitment. SRO Bell and SRO Ramos will help our efforts and mission by building community partnerships and relationships with our high school students and staff through daily interaction."
Officer Bell, in his 10th year in policing, holds a bachelor's degree from Stockton University and a master's from Fairleigh Dickinson University. A former midget football and basketball coach, he also serves as an NJSIAA football, lacrosse and basketball referee. Bell, an avid Eagles and 76ers fan, enjoys fitness and mentoring children in his spare time.
Officer Ramos, also a 10-year veteran of the force and the owner of a bachelor's degree from Stockton, is a bilingual advocate for children who enjoys coaching, Brazilian Jiu Jitsu, basketball and football as a die-hard Dallas Cowboys fan.
"We are pleased to have the experience of these officers on our high school campus and are grateful for our ongoing partnership with Chief Gurcsik and the Washington Township Police Department," Interim Superintendent of Schools Jack McGee said. "All staff and students deserve a safe, secure environment to maximize their teaching and learning experience. These officers, and all Washington Township police, play an integral role in our school safety initiatives and protocols, and we welcome their presence and expertise."