Return to Headlines
WTHS Art Students Create Powerful Memorial to Children Who Perished in Holocaust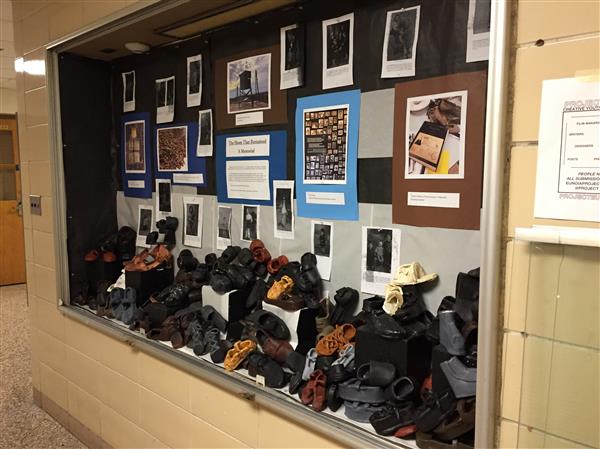 One of the most powerful art exhibits ever created at Washington Township High School emerged from the passion of a retiring teacher and came to life through the efforts of novice pottery students. "The Shoes That Remained: A Memorial" was displayed in late December 2018 in the school's 11-12 wing, a parting gift from art teacher Sybil Cohen, who retired 26 years after arriving at the school and just days following the display's completion. The memorial features replicas of shoes that were photographed of 11,700 Jewish children who were deported from France and died in the Holocaust.
Cohen, as a participant in a study tour during the summer of 2018 through the New Jersey Center for Holocaust and Genocide Studies, accompanied Holocaust survivor Maud Dahme through Eastern Europe, to Holocaust sites in Germany, the Czech Republic, Poland and Amsterdam.
"Some of things that I personally witnessed on that tour personally were overwhelming," Cohen said. "One of the things that really struck me was an entire room filled with shoes of people who perished at the Auschwitz-Birkenau Memorial and Museum. There is a similar room at the Holocaust Museum in Washington, D.C. I thought that creating a memorial like this would be a great project to educate my students about the Holocaust, while incorporating art form and the creation of a memorial."
Based on a book by Serge Karsfeld, who chronicled the plight of Jewish children who were sent to their deaths at concentration camps, the students accessed images of children who were counted among those who were deported from France from 1942-44. Each student in Cohen's Introduction to Pottery and Multicultural Art and Design classes selected a child and sculpted shoes for a display, on a smaller scale, that mirrored what Cohen personally had witnessed on her summer trip.
"My students really embraced the child that they were making these shoes for," Cohen said. "They were very sad to learn the fate of the child, and I think they really grasped the intensity and tragedy of the events. These students were learning how to work with clay, how to assemble clay and how to make something sculptural, as well as the importance of a memorial. I had the students paint them as they were old shoes that have survived already 70-80 years.
"The student-artists signed their names on the bottom of the shoes, and the child's name that they created the shoes for is etched on the inside."
Cohen shared photographs of her completed display with Dahme, who expressed her approval of the memorial.
"Maud Dahme told me that she was very impressed, very moved by our memorial," Cohen said, "especially because she was in hiding for several years in the Netherlands as a child. It was very personal and very emotional her.
"I feel very strongly about this project," Cohen continued. "I feel that this helped my students learn technically, creatively, socially and emotionally. This project touches so many different levels on just the art-making experience alone."
And for people who come upon it at the school, like any memorial display, Cohen hopes that it will be evocative, poignant and powerful.
"That is the power of a memorial," Cohen said. "We can't forget. We have to remember the horrors of the Holocaust and work, on a daily basis, to make sure it never happens again."
Washington Township High School's "The Shoes That Remained: A Memorial" was created by recently retired art teacher Sybil Cohen and her pottery students.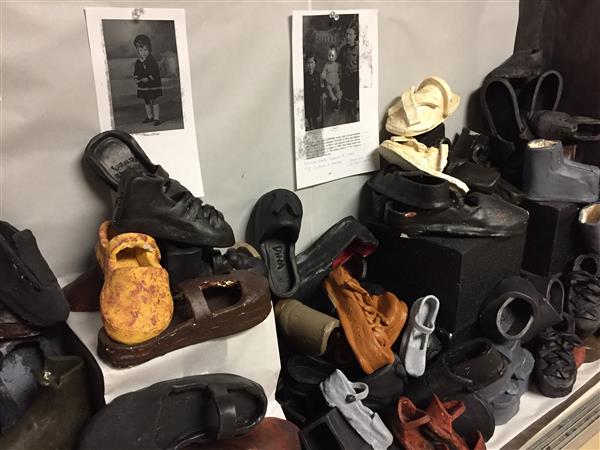 The display features the sculpted shoes and background information on some of the children that it memorializes.
Student-crafted shoes as they appeared prior to painting and firing.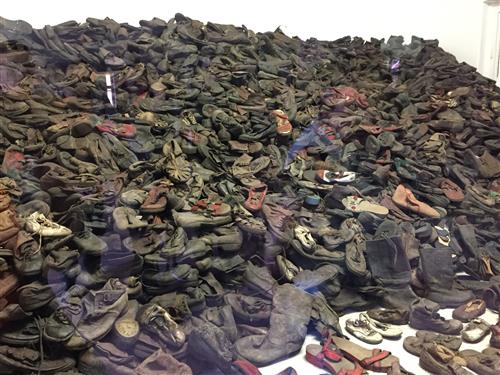 Sybil Cohen's photo of the actual shoe display at the Auschwitz-Birkenau Memorial and Museum.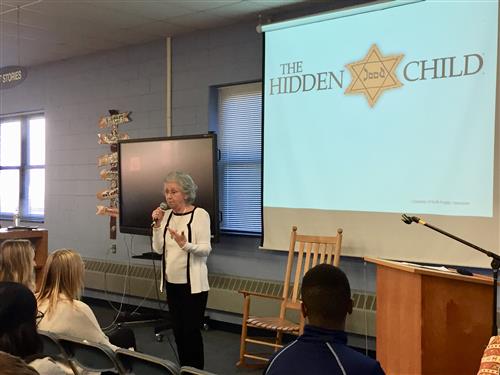 Holocaust survivor Maud Dahme shared her life story with WTHS students in December. Her visit was funded by a grant from the Washington Township Education Foundation.