Return to Headlines
CRMS Students Rely on Animal Presence to Relieve Testing Anxiety  
Nothing like the slobbery kiss from a Great Pyrenees mixed breed to take your mind off testing.
Chestnut Ridge Middle School students used their study hall periods of October 13th to break from their current "Start Strong" state standardized testing to visit with dogs (and one cat) from K-9 Alliance, Tri-State Canine Response Team and FurEver as Friends, local agencies whose volunteers bring therapy pets to schools, nursing homes and other community events.
The visit was organized by CRMS 8th grade council co-advisors Deanna Pitito and Jennifer Reilly, both admitted dog lovers, who thought that the visit would be beneficial as the students completed testing designed to gage where they are academically and where deficits might lie, in consideration of the classroom disruption caused by COVID.
"We thought that having some therapy and support would help to relieve some of the stress and anxiety that sometimes can go along with testing," Pitito said as the students gathered around "Monty" (the Great Pyrenees mix), "Leo" (a Bichon-Poodle mix), "Abigail" (a bull mastiff), "Logan" (a nine-month-old Golden Retriever) and "Brody" (a chocolate Labrador), among others. "They have done studies about how animals can improve quality of life, in general, and especially in anxious or stressful situations. Stuff like this can only be beneficial for the kids. The kids were really excited. They love animals and were excited to interact with them."
In addition to the visit, the 8th grade class council simultaneously organized a week-long donation drive, collecting pet food, pet toys, blankets and other supplies that will be donated to Homeward Bound, an animal shelter in Blackwood, N.J.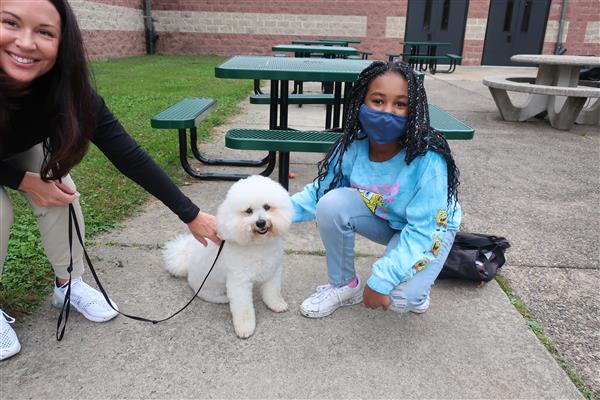 CRMS sixth grader Maliya Lightfoot poses with "Leo" and his owner, Traci Solomen.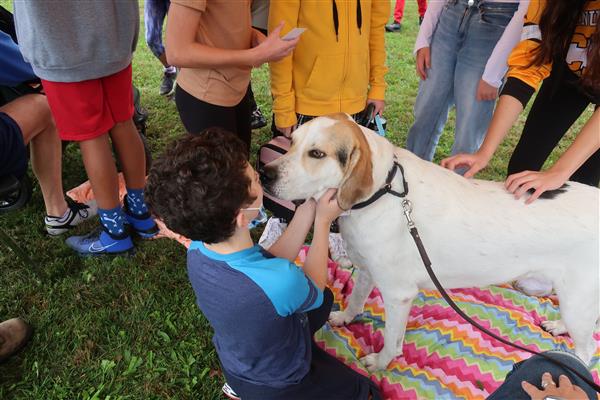 Sixth-grade student Devin Stout makes "Monty's" acquaintance.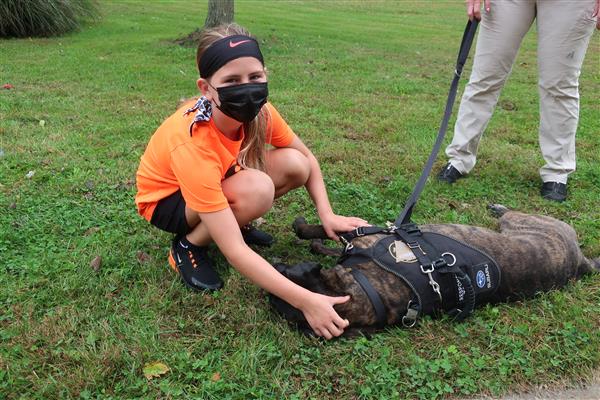 "Abigail" is the eager recipient of affection from sixth grader Tessa Macchione.
Click here for a photo gallery of the Meet-and Greet!