Return to Headlines
March Madness Brings Lasting Memories for OVMS and BHMS Hoopsters
The kindness of Orchard Valley Middle School eighth-grade students Frankie Fisher and Brady McKinney was on full display at Bunker Hill Middle School's Annual March Madness basketball event, when BHMS principal Mike D'Ostilio introduced Fisher and McKinney and their families as invited guests to the spirited school-wide assembly on March 17th. The event, which hadn't been celebrated at the school since March of 2020, includes a basketball tournament, a wing-eating contest, music, dancing and prizes.
The previous weekend, Fisher and McKinney were outdoors shooting basketball at Bells Elementary when BHMS students, Luke and Aiden, showed up. Recognizing that the boys might have different abilities, Fisher and McKinney invited the BHMS kids to join them in practicing their basketball skills and enjoying a pickup game. Their gesture of inclusion helped Luke and Aiden hone their skills and helped advance Luke's team (including his teammates Jihad Hamilton, Julian Robinson, Ryan Tresch-Mazzariello and Chris Bachich) to the semifinals of the BHMS March Madness basketball event.
"Luke exceeded everyone's expectations as a result of the inclusion and kindness that he received from Frankie and Brady," BHMS Principal Mike D'Ostilio said. "Luke not only worked hard, but his teammates and others willingly adjusted their play to meet Luke and Aiden where they were and allowed them both to experience success. It just shows how all students can enjoy genuine camaraderie, as we celebrate that we are more the same than different. We are so proud of our Bulldogs, and honorary Bulldogs, for recognizing and living our Bulldog Mantra. First, we respect those around us and realize we're all connected, as we celebrate our differences. No one, regardless of title, age, experience, ethnicity, gender, identity, talent, appearance, or religion is better than the other. Second, a life of purpose is one that it is rooted in the service of others. We give ourselves completely to ensure someone else has a positive experience, is cared for, is loved and is treated fairly."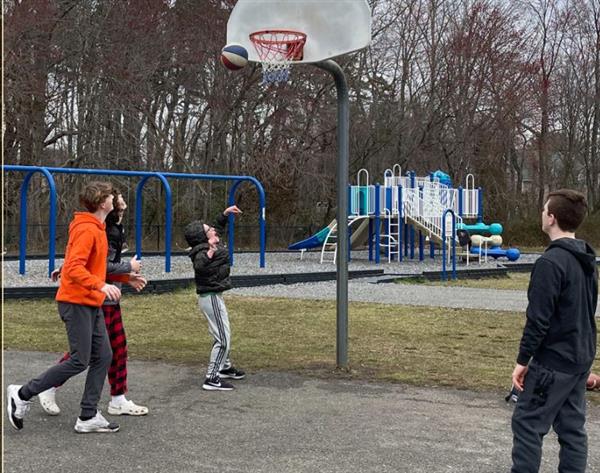 Orchard Valley Middle School eighth-grade Panthers Frankie Fisher and Brady McKinney welcome Bunker Hill Middle School Bulldogs Aiden and Luke to shoot hoops.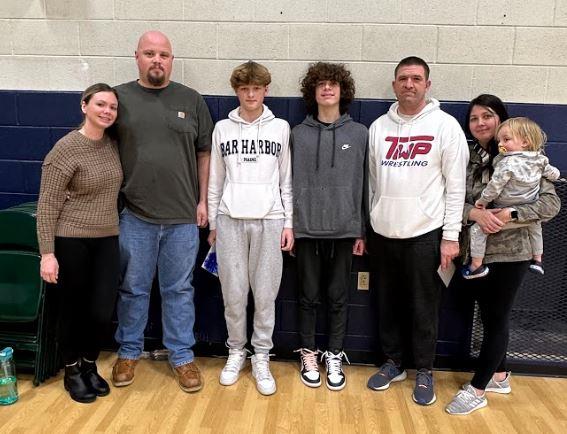 OVMS students Frankie Fisher and Brady McKinney and their families were recognized as honorary Bulldogs at the BHMS March Madness Event on March 17th.
Ryan Tresch-Mazzariello, Luke, Chris Bachich, Jihad Hamilton, and Julian Robinson display their treasured March Madness trophies.