Welcome to the CRMS Counselors' Corner!

Hours: 7:30am - 3:30pm
Phone: 856-582-5173 Ext. 5320, Fax: 856-589-0683

School Counselors

Our school counselors have Master's Degrees and are professionally trained in the three domains of school counseling: academic success, college and career readiness, and social/emotional development.

Vision Statement

The CRMS Counseling Department delivers a comprehensive program that inspires all students to take action and responsibility for their academic, personal/social, and career development to succeed in their chosen paths and become active, positive members of society.

Mission Statement

The mission of the counseling team at Chestnut Ridge Middle School is to provide a comprehensive school counseling program to its 6th, 7th and 8th grade students. This program will effectively address the academic, social and emotional development of all students, as well as their college and career interests. The counselors at Chestnut Ridge will work collaboratively with administrators, teachers, parents and all other stakeholders in the community to ensure student success. The CRMS counseling team will adhere to the ASCA National Standards as well as maintain their ethical responsibilities as outlined in the ASCA Ethical Standards. Above all, our goal is for students to actively participate in their education during their time at Chestnut Ridge and to graduate with the skills needed to become a positive and productive member of society.

Student Assistance Counselor (SAC)


Click here for the Association of the Student Assistance Professionals of New Jersey role


According to a very strict Federal Regulation (42 CFR), the Student Assistance Counselor cannot disclose to anyone any information that a student discusses with them, without the permission of the student. There are only two exceptions to this law. The first is in instances where the student expresses the desire to hurt himself/herself or another person. The second exception involves situations of abuse. In both cases the SAC is obligated to inform school or legal personnel.

However, there are a few exceptions to this law. If a student tells the SAC that he/she wishes to hurt him/herself or anyone else, actions must be taken to prevent this from happening. Also, if a student discloses that abuse is happening to him/her, the SAC counselor has the obligation to report the abuse.

With this confidentiality law, students feel more comfortable disclosing information to their counselors. In most cases holding information in and letting it build can have a detrimental effect. The SAC gives the students the opportunity to vent in a safe place where they know the information will not leave the office.

All About Our Staff!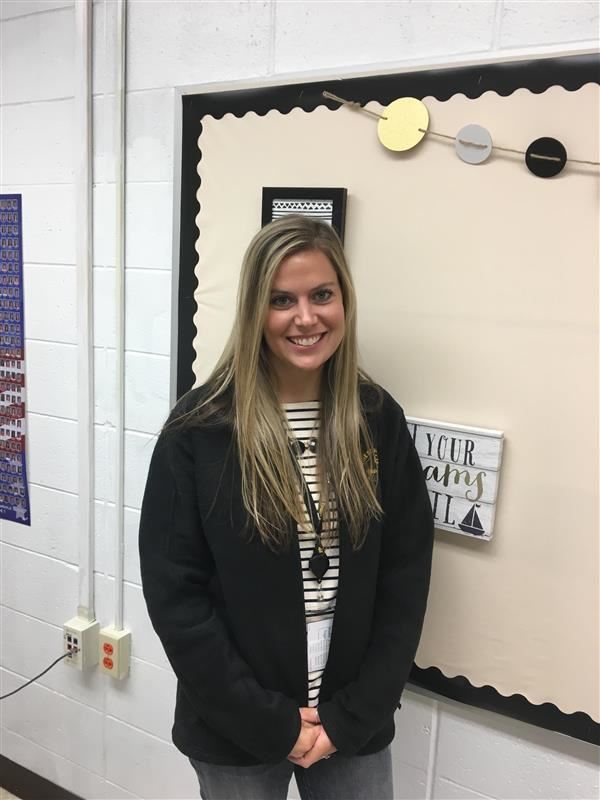 Phone: 856-582-5173 Ext. 5322
Email:
Degrees and Certifications:
Certification: School Counselor
Mrs.

Jaclyn Vernon, School Counselor

Mrs. Vernon received a Bachelor of Arts in Psychology from Monmouth University. She continued her education at Wilmington University and earned a Master of Education in School Counseling in 2015. Before she joined the counseling team at Chestnut Ridge in 2016, she worked as an elementary counselor in Paulsboro. Mrs. Vernon is involved with several committees and organizations, including the Attendance & Safe Schools Committee, Olweus the I&RS Team and the 504 Committee. Mrs. Vernon enjoys spending time with her husband, friends and family, and loves relaxing at the beach!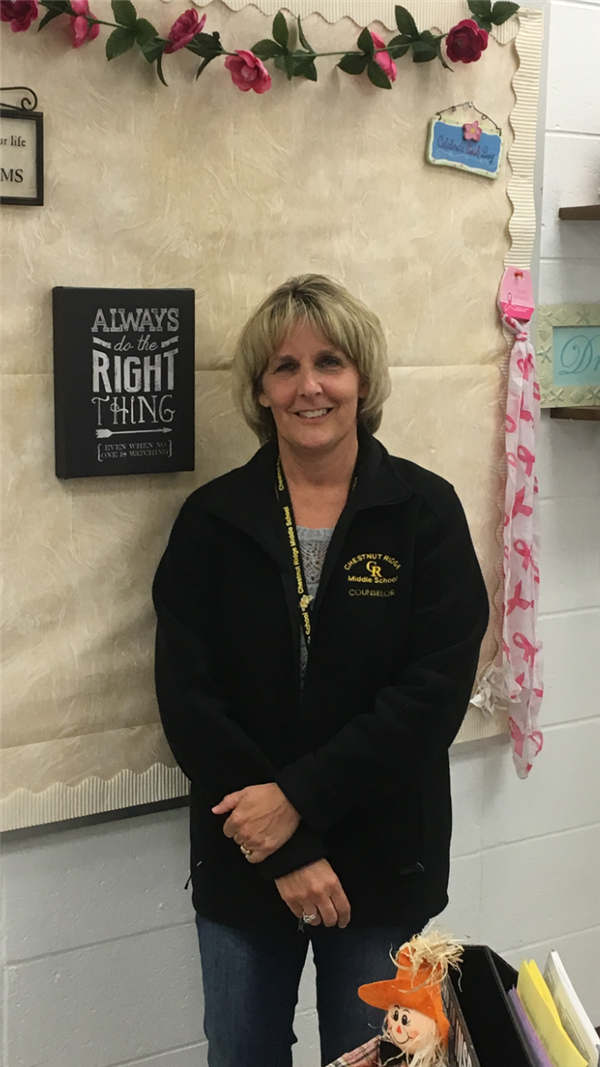 Phone: 856-582-5173 Ext. 5323
Email:
Degrees and Certifications:
Certification: School Counselor
Mrs.

Susan Kane, School Counselor

Mrs. Kane earned a Bachelor of Arts Degree from LaSalle University and a Master of Arts in Student Personnel Services from Rowan University. She has been a proud member of the Washington Township School District since 1989. Mrs. Kane taught at Orchard Valley Middle School before becoming a counselor here at Chestnut Ridge. She is involved with many organizations and committees, such as the I&RS Team, the 504 Committee and the School Safety Team. Mrs. Kane really enjoys working with students at the middle level and also loves to spend time with her family and relax on the beach.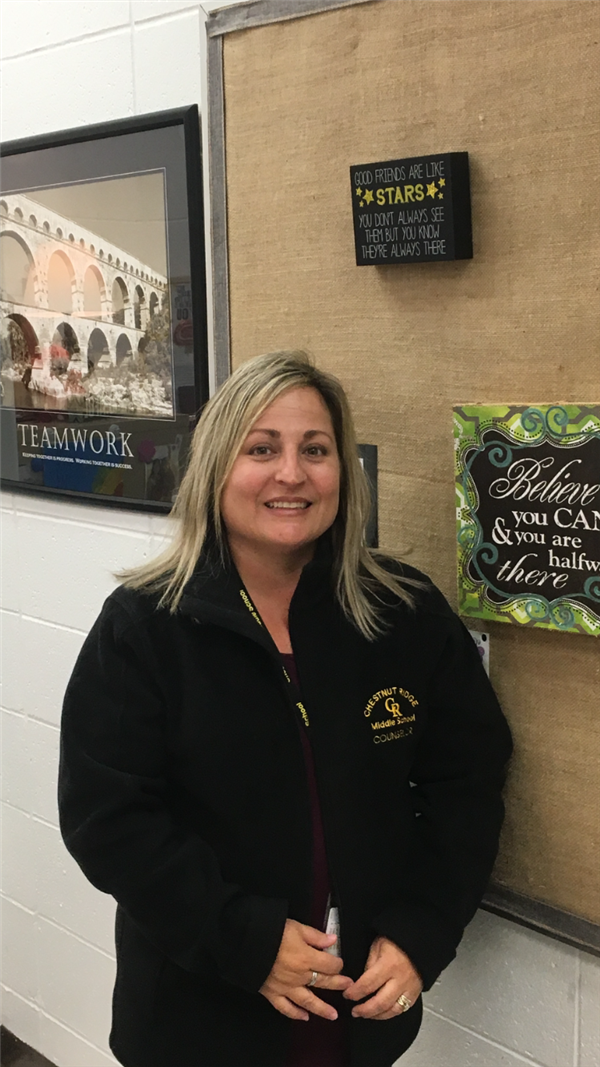 Phone: 856-582-5173 Ext. 5321
Email:
Degrees and Certifications:
Certification: School Counselor
Mrs.

Deana Leonard, School Counselor

Mrs. Leonard received a Bachelor's Degree in Sociology with a certification in Secondary Education Social Studies from Glassboro State College in 1992. She taught World History and US History I at WTHS for 10 years. Mrs. Leonard received her Master's Degree in Student Personnel Services in 1999 from Rowan University. She became a school counselor at CRMS in 2003. Mrs. Leonard participates in various committees, including but not limited to DEAC, Olweus, the 504 Committee, I&RS Team and Attendance & Safe Schools organization, to assist with the success of her students and the school as a whole. Mrs. Leonard was regonized as CRMS Teacher of the Year for the 2009-2010 School Year.

Mrs. Leonard enjoys spending time with her family, summers at the beach and fishing on their boat. She is a proud Washington Township High School and Hurffville Elementary School parent.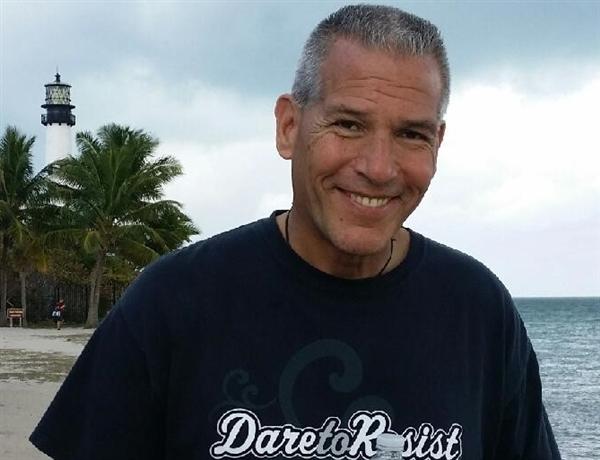 Phone: Extension 5351
Email:
Degrees and Certifications:
Certification: SAC
Mr.

Alex Illas, SAC

Mr. Illas works as the Student Assistance Counselor (SAC) at Hurffville Elementary School on Tuesdays and Thursdays, as well as at Chestnut Ridge Middle School on Mondays, Wednesdays, and Fridays.

Immediately out of high school, Mr. Illas enlisted in the United States Navy and received an Honorable Discharge after serving on active duty for 7 years. Later, he earned his AAS Degree in Law Enforcement from GCC. Next, he transferred to Rowan and earned his BA in Law and Justice, '92. Subsequently, Mr. Illas returned to Rowan Grad School and achieved his SAC Certification.

Previously, he was a SAC at another school within Gloucester County, this after retiring from a career in law enforcement. Five years ago, Mr. Illas's wife and he moved to Oklahoma where he worked as a Supervisor for American Airlines, Tech Ops. In 2015, they moved back to the Garden State and Mr. Illas was hired by the WTPS BOE for this role.

Mr. Illas's goal is to do his best to ensure that students have the BEST chance at remaining safe, healthy, and drug free. To achieve this goal, he will work with administration, teaching staff, counselors, as well as parents.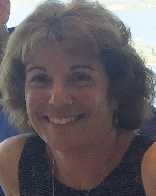 Phone: 856-582-5173 Ext. 5320
Email:
Degrees and Certifications:
Mrs.

Michelle Bucci, Counseling Secretary

Mrs. Bucci is the Counseling Office's secretary. She always greets both students and staff to the office with a friendly and welcoming smile! Mrs. Bucci's easygoing nature and professionalism definitely help the CRMS counselors to fulfill their responsbilities.