Return to Headlines
Washington Township Art Students Create Bowls, FCCLA Students to Prepare Soups for Upcoming Empty Bowls Dinner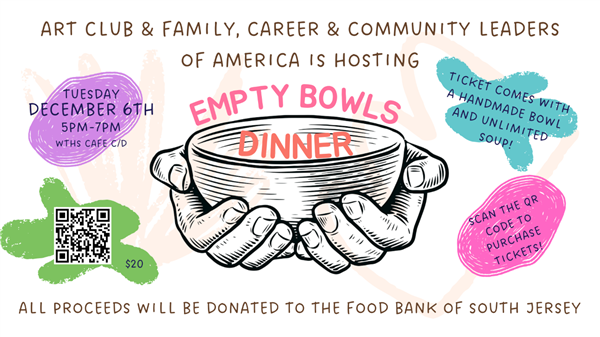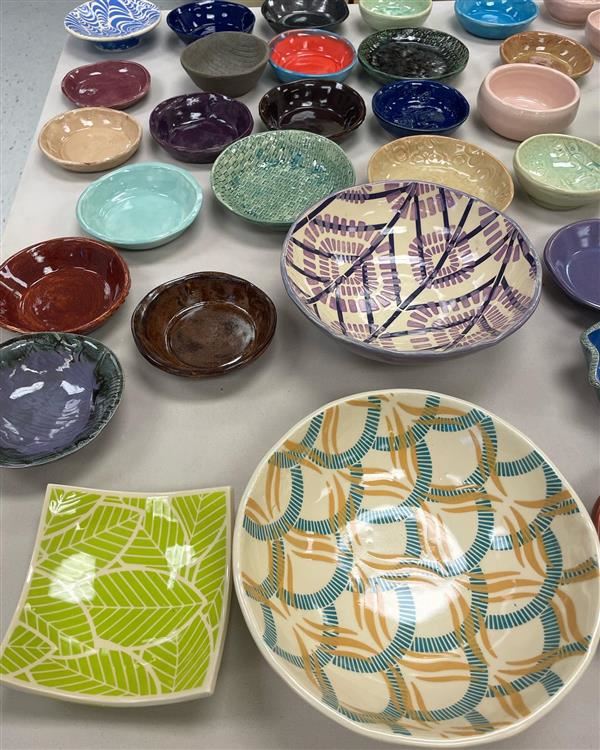 During the season of giving, there is something so powerful about the sight of an empty bowl. The display case in the core building of Washington Township High School currently is full of various sized and colored bowls, handcrafted by the school's Art Club and pottery students, as well as from members of Orchard Valley Middle School's Art Club and Talented Art Class. The art installation serves, not only as symbolic food for thought, but also as an advertisement for an upcoming event. The handmade bowls will used to hold unlimited servings of soup, made by the school's culinary students and donated by local restaurants, during an "Empty Bowls Dinner" hosted jointly by members of the WTHS Art Club and Family, Career and Community Leaders of America (FCCLA) on Tuesday, December 6, 2022, from 5-7 p.m. in the WTHS Cafeteria C/D. Tickets are $20 and all proceeds will be donated to the Food Bank of South Jersey.
The FCCLA students will be making four varieties of soup over the next several days – taco, three-bean vegetable, baked potato and lentil. Melinda's Gourmet Deli is donating tomato basil soup, and Cento is donating cans of tomatoes to assist in the soup preparation. Bistro di Marino also donated a $50 gift card.
WTHS Art teacher Shannon Henry, OVMS Art teacher Larissa Danowitz and FCCLA teacher Stephanie DeSantis are organizing the evening.
"I literally stopped in my tracks when I saw the bowls on display," said Jan Giel, the District's school community outreach coordinator who runs a monthly food distribution partnership with the Food Bank of South Jersey and the District. "When I saw that the proceeds were being donated to this remarkable organization, whose impact I have seen first-hand, I was deeply moved. This event sets the table for a celebration of art and food and community service. That's quite a dinner. All these students and teachers should be proud of their creations and their involvement in the project."
Patrons can purchase tickets by completing the attached form or scanning the QR code that appears on the flyer, and enjoy unlimited soup, before leaving with a beautiful keepsake bowl.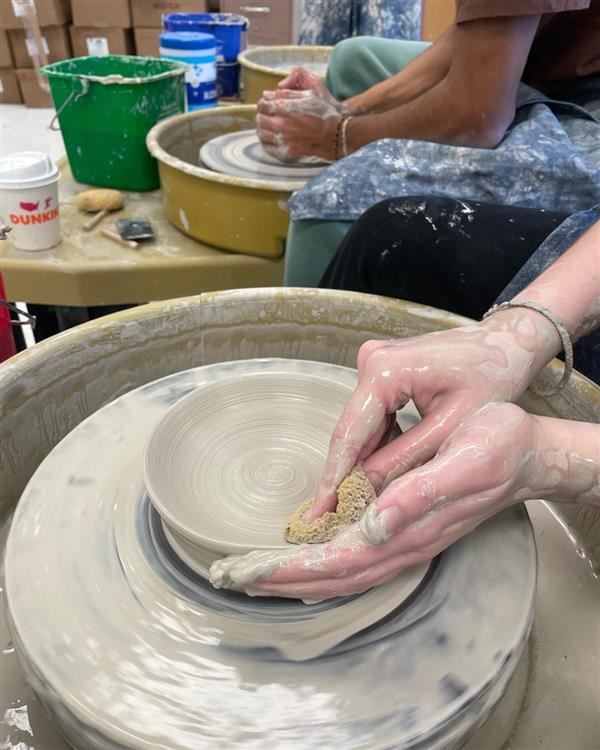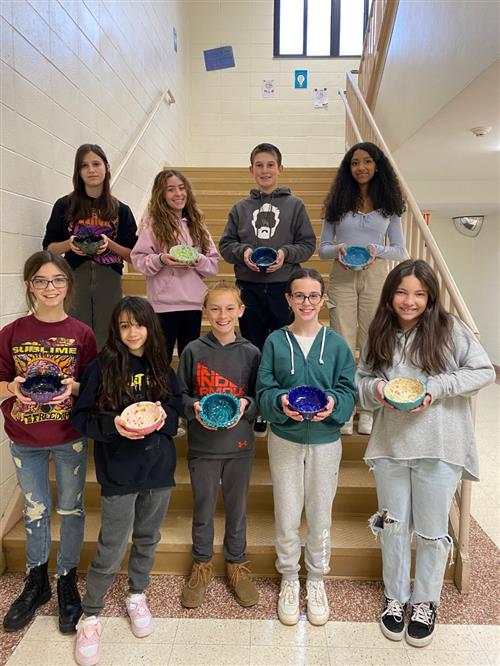 Pictured: Orchard Valley Middle School Art Club members pose with their completed bowls – (top left to right) -Anna Koslosky, Reagan Piechowski, Zachary DeNobile, Adalyn Colon; (bottom left to right) -Kendall Truszkowski, Makayla Rodriquez, Jake Alexander, Gianna Baer, Angelina Martinez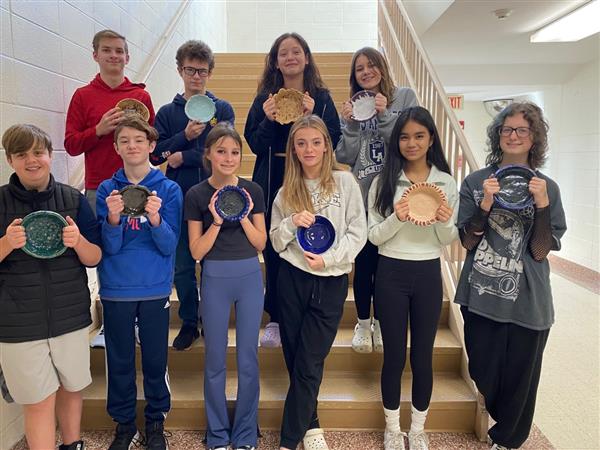 Pictured: Members of OVMS' Talented Art Class also contributed to the cause. (top left right) Colin Donnelly, Chase Huffman, Gabriela Pernia Gomez, Toni Carcillo; (bottom left to right); Haiden Shaw, Scott Goren, Sophie McStravick, Lucca Napoleon, Eunice Sta Clara, Charlotte Fjellin