Return to Headlines
Washington Township High School Inducts 62 Students into Mu Alpha Theta National Math Honor Society
Washington Township High School proudly inducted 62 new members into the Mu Alpha Theta National Math Honor Society during a ceremony on December 2, 2022. The society is under the leadership of co-advisors and teachers Natalie Barretta and Ariel Comer.
Student-members of the executive board include: Ryan Fitzpatrick (President); Sean Parchesky (Vice President); Rayn Andrews, Ryan Crowley and Tangim Morshed (Fundraising); Harshil Dhruve, Jasmine Lew and Gabriella Maletta (Tutoring); and Joseph Altamuro and Sean Reynolds (Competitions/Contests).
The students who were inducted met the requirements for induction for work completed with distinction in college preparatory math.
"Congratulations to all of you," Barretta said in addressing the honorees at the conclusion of the ceremony. "You earned this honor by achieving top grades in all your high school math courses and demonstrating an interest in math. We are so proud of you."
"I learned in college that mathematics is a team sport," guest speaker and WTHS math teacher Bernadette Bogacki said, in congratulating the inductees and sharing words of wisdom that she has shared with students throughout her teaching career. "I would like you to believe that you are more than a grade. You are more than a degree, and you are more than an honor student. You are not meant to do things alone, without help or struggle. We learn from our struggles, and we become stronger from them, better equipped for our future. Giving up and walking away only ensures one thing. That is that you will never know the satisfaction of understanding just how much you can achieve if you just allow yourself the chance and trust the process in doing so. Perfection of getting an A is not the goal. Perfection in getting it right the first time is not the goal. We need to strive to learn how to change directions and adapt to curveballs, allowing your brain to work through the proof. Because, as Albert Einstein said, 'Not everything that counts can be counted, and not everything that can be counted, counts.'
"The most important thing that matters is how you think about yourself," she said. "How you make decisions, how you respond to events around you, how you treat others and how you react to hard or difficult things. Always be a thinker. Always be accountable. Have integrity. Be true to yourself. Be sure to do the hard things with love and kindness, and please stop imposing self-limitations."
Bogacki left the students with one final equation.
"Time plus mindset plus effort will always equal success. Never let your sight rob you of your vision."
The inductees included: Ghazi-Jacob Alfakhouri, Christina Baldosaro, Jeffrey Blanchard, Allison Blankenship, Michael Bruno, Giovanna Castellan, Shanely Colon, Josselyn Connor, Tessa Conville, Emyleigh Crean, Lucia DeAngelo, Justin Dewey, John DiNoto, Casey Dunn, John Ecker, Lily Engelien, Thomas Fields, Daniel Forcinito, Justin Forman, Alyssa Gallelli, Zachary Gauthier, Mariah Groff, Abigail Haines, Daniel Hillig, Peyton Jetter, Colin Keane, Mya Kowalczyk, Ryan Kozej, Samantha Krug, Patrick Lunt, Nadia Marchetti, Lauren Marmon, Jessica Martino, Evan McDonald, Michelle Molony, Melanie Montalvo, Talia Morrison, Edward Mulvihill, Arianna Nelli, Olivia Nelson, Khang Nguyen, Ryan Palmer, Astrid Paoletti, Chelsea Petro, Angelina Post, Bailey Ratcliffe, Laura Reeve, Madison Rhubart, Gavin Rodgers, Sasha Ronsayro, Darius Santos, Emily Schwartz, Leighanna Schweikert, Christopher Smith, Sophia Soriano, Riley Sozio, Lauren Stanger, Matthew Stein, Allison Szustowicz, Anna Tobler, Grace Wahl, Allyson Wernik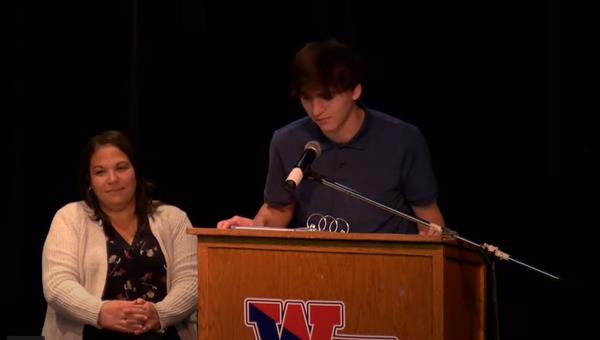 WTHS Mu Alpha Theta President Ryan Fitzpatrick shared a history of mathematics as part of the ceremony.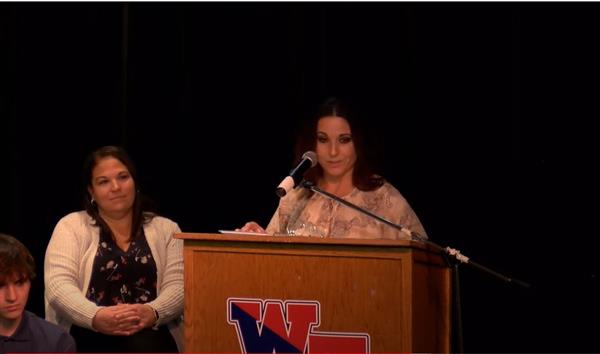 WTHS math teacher Bernadette Bogacki was the invited guest speaker at the event.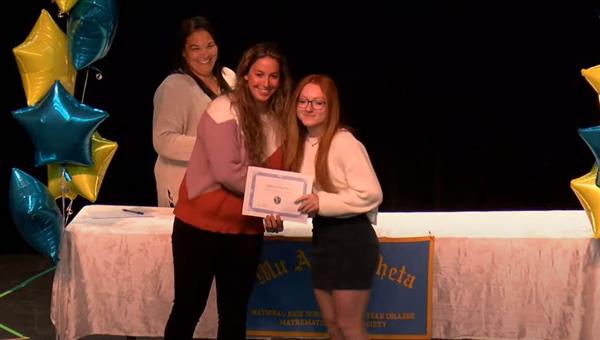 WTHS junior Jessica Marino was among 62 inductees to the school's chapter of the Mu Alpha Theta Math Honor Society, accepting her certificate from teacher Ariel Comer as co-advisor Natalie Barretta looked on.
Watch the Mu Alpha Theta Induction Ceremony Here:
https://www.youtube.com/watch?v=cIdm_VL_28o