Return to Headlines
Forty-Nine WTHS Students Comprise School's 2023 Science National Honor Society Induction Class
Forty-nine students were honored as Washington Township High School's Science National Honor Society (SNHS) 2023 induction class on January 31, 2023, in the school's Play House. Established in 2000, the SHNS is a prominent scientific organization that celebrates scholarship and achievement in the sciences and engenders a new group of young thinkers who will be the future of industry, research and scientific exploration for America. The organization currently boasts 1,500 chapters located in all 50 states.
Co-advisors and WTHS teachers Angela Cardamone and Mary Howard, along with Science National Honor Society Executive Board members Gabriella Maletta, Alexis Thompson, Lucia DeAngelo, Bailey Ratcliffe, Alexander Schultes, Jasmin Lew, Harshil Dhruve, John Martino, Anna Lee, Charlotte Moule, Sean Monaghan and Lauren Brookstein, organized the event.
"Science is woven into the fabric of our society," Howard said in congratulating the inductees. "It is the hope of our science department and our faculty that you will use your science studies to better understand how the world around you works and use your science knowledge to improve the world for the benefit of others."
"You have worked so hard to get here," said 2023 WTHS Teacher of the Year and 2009 Finalist for National Science Teacher of the Year Amy Carpinelli in addressing the group as the guest speaker. "Science leads, and now as a member of the National Science Honor Society, you are called to be a leader in science. Science's goal is, and should always be, about advancing our knowledge above all else. How much more could we achieve if, instead of competing, either overtly or subconsciously, we focused on a common goal? Think about the type of leader you want to be."

"We are called to examine, quantify, qualify, clarify and always question," District Science Supervisor Malika Moore said in concluding the program. "Your passion for science and commitment to academic excellence serves as an inspiration to us all. It is now your responsibility to continue to strive for knowledge and share your love for science with others. Remember with great power comes great responsibility. It is your duty to use your knowledge and skills to make a positive impact in our communities and the world."
The WTHS 2023 Inductees included:
Iyad Abi-El-Mona, Brooke Alessandrini, Christina Baldosaro, Bryn Bautista, Jeffrey Blanchard, James Brigandi, Logan Cerchiaro, Shanely Colon, Josselyn Connor, Cecilia Dabrowski, Justin Dewey, Kayla D'Ottaviano, Casey Dunn, John Ecker, Lily Engelien, Thomas Fields, Daniel Forcinito, Justin Forman, Zachary Gauthier, Madeline Gleason, Mariah Groff, William Hagerty, Abigail Haines, Peyton Jetter, Ryan Kozej, Aaron Kolosowsky, Samantha Krug, Patrick Lant, Jessica Martino, Nico Masciangelo, Evan McDonald, Andriy Miller-Bublyk, Eliana Molli, Melanie Montalvo, Arianna Nelli, Olivia Nelson, Ryan Palmer, Chelsea Petro, Madison Rhubart, Sasha Ronsayro, Arman Sidhwa, Sophia Soriano, Matthew Stein, Allison Szustowicz, Anna Tobler, Peter Tzimoulis, Marisa Velazquez, Emily Westenberger, Ryan Woyciechowski
The WTHS 2022 Inductees included:
Joseph Altamuro, Nick Altobelli, Kate Arnold, Olivia Brett, Lauren Brookstein, Abigail Brown, Kaitlyn Cesare, Ryan Crowley, Lucia DeAngelo, Veronica DeLuca, Harshil Dhruve, Sophia Diaz, Kimberley Do, Connor Dunn, Ryan Fitzpatrick, Daniel Hartong, Riley Hayward, Christian Heil, Jackson Heil, Callie Krupa, Anna Lee, Jasmine Lew, Gabriella Maletta, Lauren Marmon, John Martino, Lily Molnar, Sean Monaghan, Tangim Morshed, Charlotte Moule, Anna Muhihu, Isabella Nelli, Vedandt Patel, Kaia Popolo, Paige Rambo, Bailey Ratcliffe, Alex Ricciardi, Juliana Schiavoni, Alex Schultes, Angelina Stanfa, Carli Sullivan, Abby Thomas, Alexis Thompson, Giana Torrie, Jessica Wei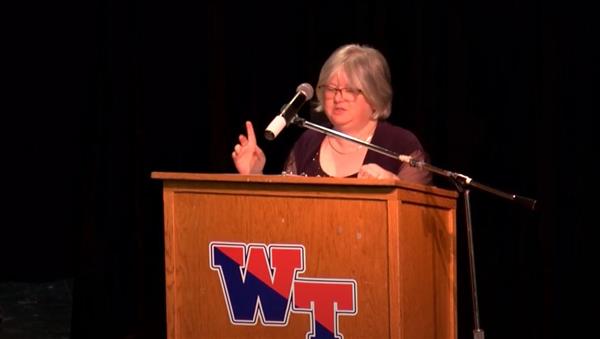 WTHS teacher Amy Carpinelli served as the guest speaker for the induction ceremony.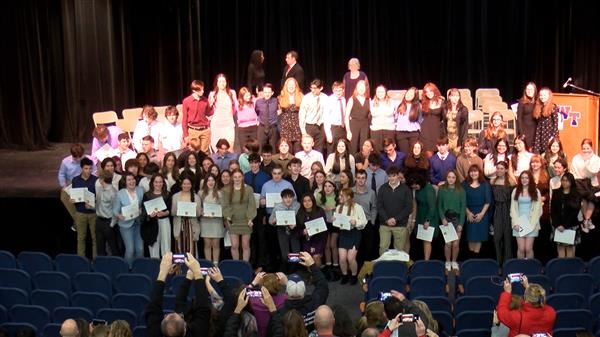 The Honorees convened for a group photo.
To watch the induction ceremony, please click here.