Return to Headlines
Bells FutureActs Students Team with Music Teacher's Non-Profit "Forget Me Knot Flowers" for Service Project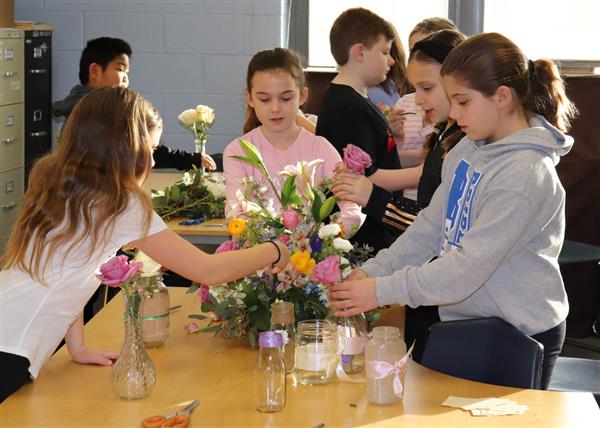 Bells Elementary School FutureActs Club members (left to right) Avery Mertz, Riley Piechowski, Sophia Schieri and Jessica Amoriello break apart a large flower arrangement to make smaller displays to send to Cardinal Village.
WASHINGTON TOWNSHIP – Love was most definitely in action on Thursday morning, February 20th, at Bells Elementary School. Members of the school's FutureActs Club gathered in the music room nearly an hour before the start of the school day to assist their music teacher, Leona Davis, with a special project, creating bouquets of flowers for Davis's Forget Me Knot Flowers program.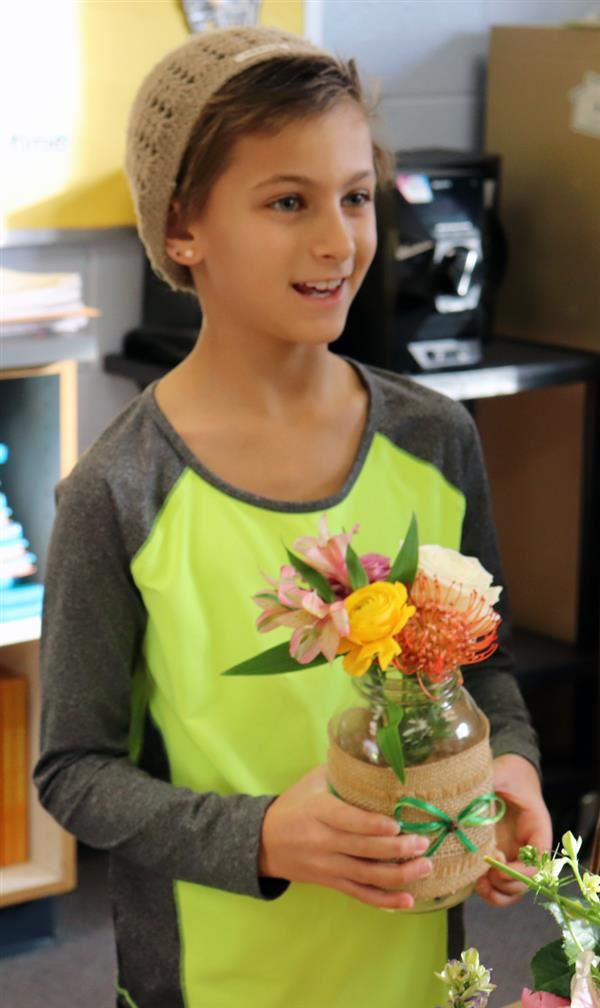 Created by Davis three years ago, Forget Me Knot Flowers is a non-profit organization that repurposes flowers used at wedding celebrations and other special events with hope of spreading a message of love and beauty to a different generation. She and her team take flower arrangements, which were created for weddings and events, and donate them to nursing homes, care facilities, shelters and local hospitals.
On Thursday, the Bells FutureActs students, ranging from third- through fifth-graders, sifted through large displays that were created for the Old City Loop – a tour of wedding venues in Old City Philadelphia hosted by Brulee Catering on Wednesday night. The flowers – from Old City Flowers and Vault and Vine – were displayed at the National Constitution Center, Liberty View, and the Museum of the American Revolution. The students trimmed the flowers and created smaller vases from the blooms and the greenery. Once they had a vase filled, they wrote a short note that Mrs. Davis tied to the vase.
"One of the hashtags I use on my social media for Forget Me Knot is #loveinaction," Davis said. "I can feel that love here today. Seeing my students doing this makes me so happy and proud."
Once completed, Davis planned to deliver the flowers to Cardinal Village, an assisted living residence in Washington Township.
Click here for more photos from the morning of service.
Photo at left: Bells fourth-grader Kylie DelPizzo smiles after completing a display.
- WTPS -