Return to Headlines
Skateboards Reflect Personalities of BHMS Student-Artists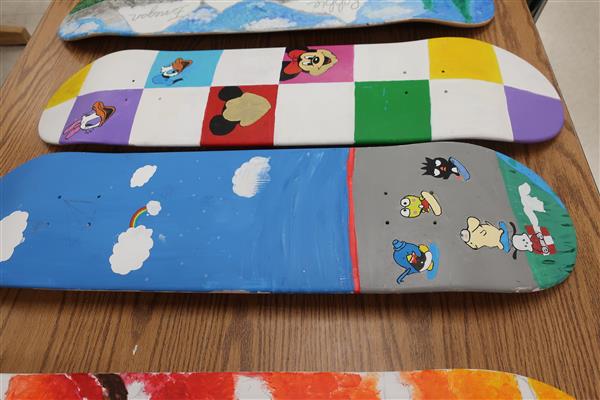 Some people create wearable art. Bunker Hill Middle School students in Mike Murro's class create rideable art.
As part of a recent unit, seventh and eighth grade student-artists were tasked with creating personalized, pro-model skate decks that, when outfitted with metal trucks, wheels and grip tape, could be transformed into fun and functional skateboards.
"If you ever go into a skate shop or a hobby store, you will see pro models -like signature sneakers for a professional athlete," Murro said. "Pro skateboarders have skateboards that have the professionals' names on them and are designed in a style that they like. That was the learning target of this project, allowing students to make a model skate deck that's all about them, with a design of their choice. They could do whatever they wanted, but the catch was they had to do some independent research on an artist of their choice. They could choose an artist who has been in museums all over the world, in art textbooks that they have been reading since they were in grade school. They could also do modern artists, an artist they follow on Instagram, somebody who just posts stuff or is an amateur artist. It didn't have to be an artist who everybody knows. It could just be an artist that inspires them personally. They just had to make their creation in that style of that artist and pay homage to that style in their design."
Students were given a blank deck, that they sanded and applied acrylic paint to and finished with a clear coat gloss, giving the skateboards that real-deal, professional look.
"I wanted to teach painting skills, of course," Murro said. "I wanted to teach them the open-endedness of doing independent research on different types of artists and to learn that you can put a creative spin on pretty much anything. I wanted them to find something about art that they can relate to. They could do this for a living."
The resulting vibrant and personalized skateboards gave a creative nod to the cartoonist who created The Simpsons (Matt Groening) and American painters Bob Ross and Kenny Scharf, among others.
Seventh-grader Andrea Cardamone painted her skateboard as if it were a Pixar production.
"I picked Pixar because I am really bubbly and excited all the time," Cardamone said. "I thought Pixar was a version of me in art form. I decided to illustrate a cartoon whale shark. I thought it would be cute to do. It took a long time, but I liked it because it allowed me to express myself."
Classmate Paul Dombrosky opted for a painting of the four Philadelphia sports mascots (Gritty, Swoop, Franklin and The Phanatic) in the style of Matt Groening.
"As a diehard Philly fan, I was able to have fun with the project," he said.
Though several of his former students have put their skate decks to actual use, many will choose to display their art in a more traditional way.
"I'll probably hang it up in my room," said seventh-grader Robbie Finnegan, who crafted a nature scene in the vein of Bob Ross. "It looks good, and I like the idea of it."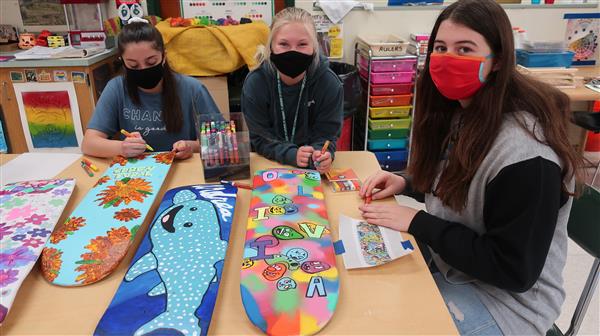 Bunker Hill Middle School art students (left to right): Ceren Tural, Andrea Cardamone and Olivia Brewer put the finishing touches on their skateboard designs.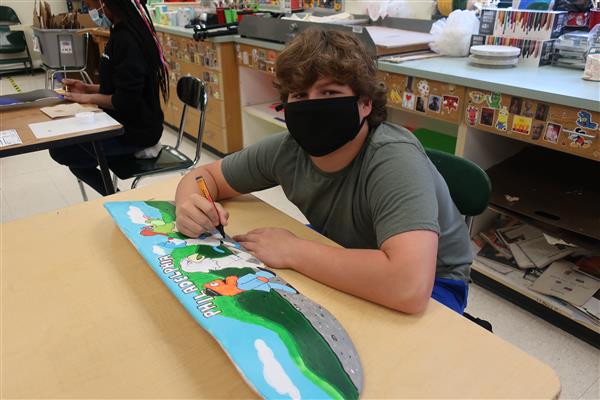 BHMS student Paul Dombrosky outfitted his skateboard with Philadelphia sports mascots.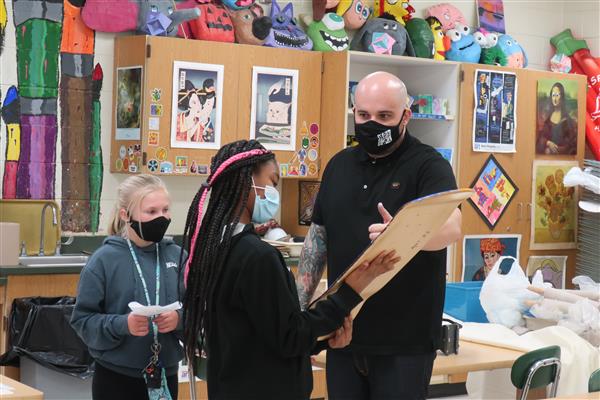 Teacher Mike Murro gives some design tips to Aniy'lah Freeman as Andrea Cardamone checks out the creation.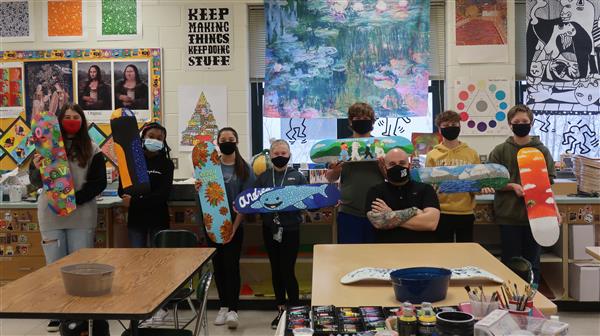 Left to right Olivia Brewer, Aniy'lah Freeman, Ceren Tural, Andrea Cardamone, Paul Dombrosky, Robbie Finnegan and Charlie Engelien display their skateboard art. Teacher Mike Murro is seated…and proud!