Return to Headlines
Empatico Outfits District's Elementary Classroom with Webcams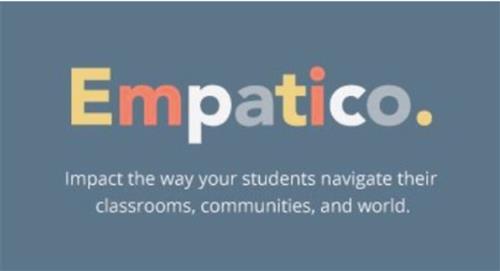 Ask. And you shall receive. Ask big, and you might be abundantly surprised.
So thought elementary technology integration specialist Kathi Kersznowski when she approached an edtech company called Empatico, whose parent company is the KIND Foundation. She explained her background and initially asked humbly if the company could put her in touch with a corporate sponsor who might be able to help her procure some webcams for District's elementary schools. Kersznowski's interest in the webcams came after she signed a pledge to teach "sustainable development goals" by making global connectedness and global empathy an initiative in all 180 District elementary classrooms. She had learned that Empatico, a free tool that connected classrooms around the world, had a goal to connect one million students by 2020.
"I found the Empatico goal to be a noble and wonderful one, and I so wanted Washington Township students to be counted in that one million," she said. "I wrote to Erick Roa at Empatico expressing the fact that I have long lamented that our teachers are not able to Skype or do Google Hangouts with other classrooms and other places because we lacked individual webcams. I emphasized our desire to be able to give our students those critical opportunities to learn about the world through the Empatico tool, but we lacked these plug-in webcams. So I simply asked for them, assuring that this donation would be embraced as a District initiative with guided support and that our seven K-5 schools would look, sound and BE much different by the end of the school year. I emphasized that Washington Township would be thrilled to be the first-ever Empatico district."
Mr. Roa responded with enthusiasm and subsequently Skyped with Kersznowski to further discuss her vision.
Over the summer, Empatico and the KIND Foundation made good on the request and gifted the District with 180 webcams. They are being distributed to every K-5 teacher, who will receive professional development sessions about Empatico in October.
In exchange for their donation, Empatico asks that each teacher use the www.empatico.org website to make at least two connections with other classrooms around the world this year.
"I am over-the-moon excited and ecstatic about Empatico's generosity to our District and students," Kersznowski said. "Empatico is anxious for us to share our stories and to document, through photos and video, our amazing global journey. This opportunity very literally connects us to the world in ways we have never known before. This has been a gift that is absolutely priceless for all of us."
"We are indebted to Empatico for this incredible donation that will provide invaluable connections and extend the learning of our elementary population outside of the walls of their classrooms and schools," Superintendent of Schools Joe Bollendorf said. "We are especially grateful to Mrs. Kersznowski for not only her vision, but also for her willingness to seek assistance in bringing it to fruition. This generation of learners has had technology at their fingertips since birth. The world is a much smaller place for them because of tools like those supplied through Empatico. We are so excited to use this technology to immerse our students in a truly global society."
Once the webcams are installed and the teachers are familiar with the power of Empatico, they will be able to register with the site, choose from a bank of nine curricular, standards-based activities, and get matched with a classroom with a partner class in another part of the country or the world. Empatico's algorithm ensures that the matched class is within two grade levels and is at least 300 miles away.
Kersznowski reports that several Washington Township teachers already have been matched, including locations in Mexico and Nigeria. Donna McGough's fifth-grade classroom at Wedgwood Elementary is partnered with a teacher in Kenya who teaches homeless students. First-graders in Ellen Calandra's class at Wedgwood are matched with a class in Kentucky. James Cho's fifth-graders at Bells Elementary will be meeting new friends from Arizona.
Kersznowski will be Skyping with Mr. Roa on a monthly basis to share stories and updates. He will be visiting the District later in the year to see Empatico exchanges in action and to ask how Empatico can further support the District.
"Empatico also has just opened up a brand-new Fellowship program in conjunction with a website called 'Participate'," she said. "Ten of our Washington Township teachers already have volunteered and have been accepted as part of the Fellowship."
Empatico is indeed the gift that keeps on giving. And all because one passionate technology integration specialist felt compelled to ask.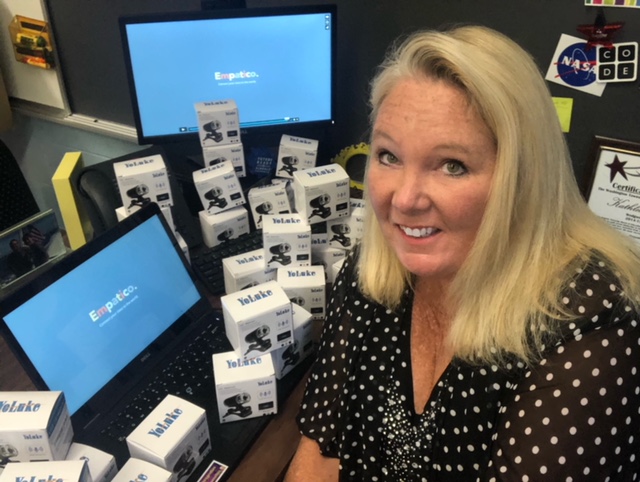 Washington Township elementary technology integration specialist Kathi Kersznowski showcases her newly donated webcams.
District elementary teachers James Cho, Tracy Colligan and Donna McGough cannot contain their excitement after being gifted with webcams from Empatico.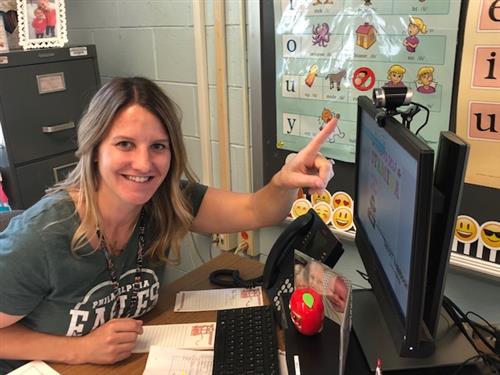 Wedgwood Elementary second-grade teacher Kristen Seymour points to her newly installed webcam.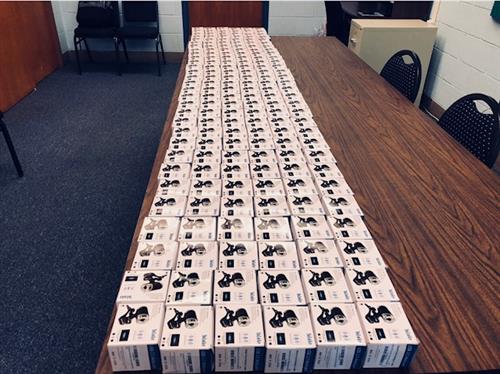 A shipment of 180 webcams are lined up for distribution at all K-5 classrooms.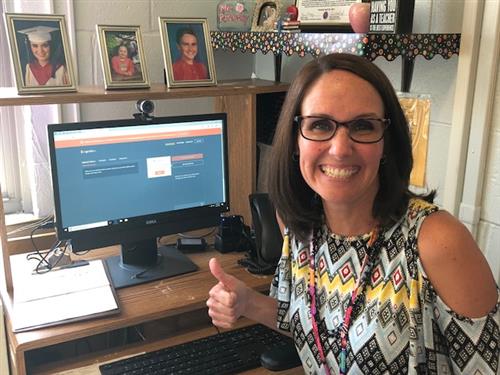 Wedgwood fourth-grade teacher MaryGrace Parchesky gives the thumbs up on her new global classroom technology.